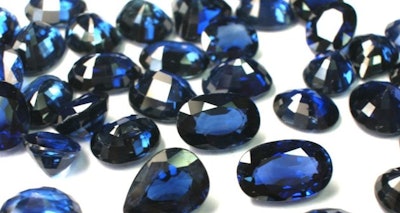 Apple is betting on sapphires to be the next big thing for its products. It feels so strongly about using the material that it's building a factory in Mesa, AZ and signed a development and supply
contract with crystal materials manufacturing specialist, GT Advanced Technologies, to make sapphire material exclusively to Apple for consumer electronics. The factory capacity will make as much as double the current global amount, enough for 80 to 100 million iPhones a year, according to a Bloomberg report.  So what are the sapphires for and will it all be worth it?
Apple already began using sapphire material in its iPhone 5 for the surface of the rear camera lens and the ID fingerprint sensor in the iPhone 5S due to the material's high scratch resistance. While the rumor mill has been speculating that the sapphires will be used on the iPhone 6 to replace Corning's Gorilla Glass as the screen material, more recent rumors are pointing at the mysterious, and yet unconfirmed, iWatch to be the first Apple product to make bigger use of the materials. Seiko already beat them to the punch on that one though, as it using a sapphire dome on its Stratosphere watch.
One company that isn't happy about Apple's plans is Corning, presumably because sapphire glass will cut into Corning's Gorilla Glass business. The company has even put out reports showing side-by-side tests of sapphire glass and Gorilla Glass to dispell any ideas that their product is somehow inferior. Looking to get ahead of any damage control, Corning's CFO, Jim Flaws, went on CNBC's Nightly Business Report to talk about the two products saying:
"We think sapphire has a number of weaknesses. Number one, it's a least 10 times more expensive than Gorilla. It transmits less light. It's actually heavier than Gorilla and it's thicker. It does have better scratch resistance, but it can fail when it has any kind of scratches."
Of course, with Apple's policy of neither confirming nor denying rumors, we can imagine all we want, but we'll have to wait until the official announcement to know exactly what the tech giant has planned for sapphires. While sapphire material does have its advantages being durable and scratch resistant, it's expensive to manufacture and produce. Only time will tell if Apple's big gamble with sapphires will pay off. It could be the material that launches a new manufacturing revolution, or it could be the gimmick that no one buys into. What do you think?