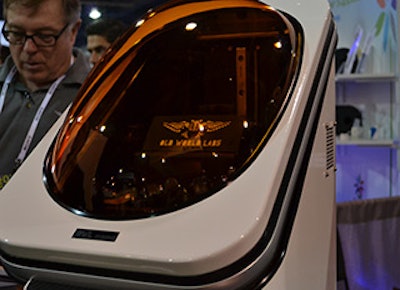 Perhaps you've heard, 3D printing is this astounding, brand new technology that is taking the world by storm. Soon every household will have a 3D printer, and nobody will have to buy any physical
thing at a store!
Forgive my zealotry. In case you couldn't sense the sarcasm bleeding from the screen as you read that, I don't think anything terribly unexpected or astronomical happened in additive manufacturing last year. Granted, there were expected advances and the technology is improving faster now than ever, but let's be honest with ourselves… nobody broke the mold in 2013.
Being a technology that has been around for some 25 to 30 years, additive manufacturing (3D printing) was bound to make some intriguing changes and advances, as is expected every year. So why on Earth is 3D printing the biggest market disruptor of 2013?
Back in October of last year, 3D Hubs began collecting data on how people were using 3D printers. The results from November provided some insight.
Nearly 75% of all 3D printers were being used for "prototypes" and "gadgets". The researchers never really defined classified what a gadget, but I can assume it is a somewhat complex piece of hardware that equates to, or has a similar function of, a prototype (my first instinct would be DIY/at-home-engineer stuff, but that has its own, small section on the graph).
As somebody who is neck deep in the industry that birthed the need for this technology, this loose data tells me two things.
Professionals or prosumers are still the majority users of 3D printing technology.
Everybody else is making junk.
I mean junk in the most playful sense possible, considering my desk is filled with various toys and models that were 3D printed on my Afinia from Saelig.
The other 25% (or so) is the reason 3D printing is the biggest market disruptor this year. Phone add-ons, toys, models, fashion… these are almost certainly consumers utilizing their desktop 3D printer purchase. For instance, on my recent trip to CES 2014 I bore witness to an entire tech section set aside for 3D printer companies (29 in total), whereas just two years earlier there were only five dispersed among the other desktop electronics.
Read: Half-Baked Products & Junk Clones
In the engineering industry we are painfully familiar with the capabilities and technology surrounding additive manufacturing, but only recently has the greater populace become aware of even the most rudimentary 3D printing capabilities. Why the masses (and popular media) suddenly decided to take notice in 2013 is an elusive question, but if anything has rocked the world of home appliances, it's the new emergence of this old technology. One can only hope that the popularity will help advance the technology rather than provide us with a million different versions of the same technology à la cell phone cases or mobile amplification.
Read: What CES 2014 Means for the Tech Savvy
Are you in the industry and think your product deserves top credit as 2013's market disruptor? See how you stack up against the competition and enter the ECN IMPACT Awards. Visit www.ECNawards.com for more information.
Do you think the newfound popularity of additive manufacturing is a big deal or just a waning trend? Email chris.fox@advantagemedia.com.