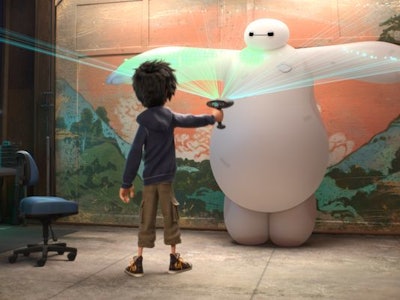 On Sunday evening, Disney execs, robotics geeks and children of all ages were air-fiving their nearest and dearest when "Big Hero 6" scored an Oscar for best animated film.
Although an undeniable win for Disney, there's also room for the sometimes lesser-known realm of soft robotics to break out in a victory jig. Not only does the blockbuster film highlight their segment of the manufacturing industry, but it also underscores that soft-robotics technology is more fact than fantasy.
For instance, the character Baymax was inspired by a real-life robot that director Chris Hall found at Carnegie Mellon University's robot lab. A robot made of vinyl designed to act as a caregiver, Baymax is an all-purpose health care clinic disguised as an adorable and inflatable robot; he takes biometric scans, gives hugs and finds solutions to everything from scratched knees to anxiety attacks. Like Baymax, this real-life counterpart is also completely white and inflatable.
This speaks to a larger trend within the manufacturing industry: affable robots in health care. Automation is key here; like Baymax, these robots are designed to work alongside their human counterparts, not to replace them.
Take Baxter, the friendly manufacturing robot. GE Reports writes, "Baxter is leading a new category of smart, collaborative robots designed to safely and intelligently work next to people."
Who knows, perhaps soft-robotics technology will flourish with the cuddly Baymax and friendly Baxter as their mascots? After all, trends have sparked without the accolade of being nominated and winning an Oscar from The Academy. DJ Roomba, anyone?
Comment below or tweet me @MNetAbbey.
ENTRIES OPEN: Establish your company as a technology leader. For 50 years, the R&D 100 Awards, widely recognized as the "Oscars of Invention," have showcased products of technological significance. Learn more.