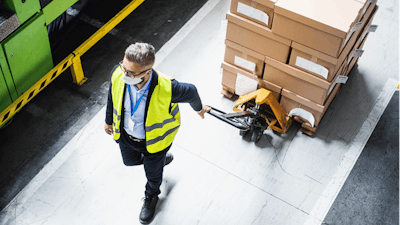 While there is no singular solution to improving factory safety in the age of COVID, some advancements in technology could set the stage for safer operating conditions. One such solution could be connected worker technology. Parsable's Chief Customer Officer, Ben Cheng, recently sat down to offer some additional perspective on the use of the technology.
Jeff Reinke, editorial director: Some plant workers see these tools as a "Big Brother" type of technology. How would you respond to that, and what has been the overall response of plant workers to your platform?
Ben Cheng, Chief Customer Officer, Parsable: Workers are actually so frustrated by the lack of modern digital tools on the plant floor, they see our technology as something that's been long overdue. Deskless workers make up 80 percent of the global workforce, but only one percent of software venture funding is invested in technology built for them. There's no longer any reason why the technology that workers are used to in their personal lives – like texting, or pulling up instructions as photos or videos – aren't available to help them do their jobs more safely and efficiently, and that's what our Connected Worker Platform provides.
JR: Could you describe the implementation process?
BC: We generally follow the PDCA (plan, do, check act) model for our implementation process. This approach also allows us to start and scale successfully while remote, which was critical for us to continue projects without skipping a beat when the pandemic shutdowns began. For example, earlier this year we worked with a large beverage bottler to roll out Parsable at nine sites in two months, without ever having to physically step on-site.
JR: What type of data is contained within the platform? Are there any security concerns?
BC: We contain data about the processes and procedures as well as data about the execution of those work items. There are real security concerns that customers should consider around their IP – especially their "recipes," workflows and "know how."
We use industrial-grade security controls to protect our customers data at rest, in transit and while on the local device. We are well versed in the complexity of regional data privacy regulations, allowing us to keep our customers compliant with the evolving policies that govern the regions where they work. These are some of the reasons one needs to consider when looking at an enterprise-grade Connected Worker platform.
JR: How large of an investment are plants looking at with Parsable?
BC: Because Parsable is a B2B enterprise platform, our customers often start with a pilot program to ensure adoption, ease of use and a solid value proposition. Once the pilot is validated with the success criteria above, generally in six to eight weeks we are then able to quickly scale and multiply deployments across numerous plants. One of our larger customers has Parsable deployed in over 125 sites around the world.
JR: Going beyond the current state of things, are there applications for this tool outside of COVID-based concerns?
BC: The Parsable Connected Worker Platform has applications well beyond COVID-19; the product has been in the market since 2016. The platform was built to ensure the safety, quality and productivity of hundreds of industrial work procedures, everything from lock out tag out, line changeovers, and inspections, to maintenance, quality checks and root cause analyses.
JR: Looking at the current state of U.S. manufacturing as a whole, what are some of your projections for the next six months?
BC: COVID-19 has shown us just how critical it is to have an agile business model that can respond rapidly to any unexpected stress on any part of the value chain. Companies must fast-track their digital transformation initiatives and focus on technologies that are quick to scale and quick to show impact, while still minimizing the footprint directly at the manufacturing site.
Global uncertainties on multiple fronts – political, economical, environmental – will continue to increase over the next six months, at least, and U.S. manufacturers need to shore up now, and prepare for whatever's ahead.