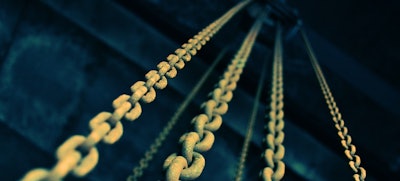 On Tuesday, BakerHostetler presented a webinar on the place of blockchain in manufacturing and how and why manufacturers might want to use it, especially in the supply chain. Primarily known as the building block for bitcoin, blockchain is an encrypted method of relaying data peer-to-peer, without an intermediary. For example, in the case of bitcoin, currency is relayed without passing through a central bank.
Blockchain is built to be secure. Modifying one block modifies them all, which makes tampering very evident. There are ways around this – Laura Jehl, partner at BakerHostetler, said over $1 billion in bitcoin was stolen in 2018. While the blockchain itself is highly secure, the "wallets" used to store the digital currency may not be. However, the speed of transfer and security mean that more and larger companies are trying to organize blockchain for industrial use.
GoldmanSachs is exploring a 'bitcoin derivative,' but is careful not to place too much confidence in the cryptocurrency. They'll offer the derivative because it's in demand, but are quick to quash suggestions that they're opening a bitcoin trading desk.
This digital currency is also making a mark on the physical landscape. Bitcoin "mining" farms are known for consuming a massive amount of power. Some manufacturers may find themselves affected in terms of repurposing infrastructure, with factories converted to data centers for cryptocurrency mining. A company called Coinmint signed a ten-year lease for a 1,300 acre former aluminum smelting plant in December 2017. Facilities like this that are optimized for high electricity use – located in colder areas, rated for a large amount of power in an area with low electricity costs – also makes them perfect for bitcoin mining. Many cloud service providers offer space for computer nodes which validate blockchain transactions, including AWS (Amazon), Microsoft Azure, Oracle, and SAP.
Here are some things manufacturers should know about blockchain before getting started:
Be aware of your legal standing. "It's a very confusing regulatory environment," said Jehl. Different regulatory bodies regard bitcoin and cryptocurrency differently, and the way payment processors work may change as larger companies begin to influence the industry.
"It's a bulky solution in some cases," Jehl said. "So you don't need a blockchain unless you absolutely must use one." Manufacturers might find it to be the best use case if they need to rapidly update a data set shared by multiple stakeholders, if they can save money by cutting out intermediaries, and if they want independent verification and/or automation of data updates and transactions. Its main benefits are simplifying processes, ensuring transparency, and eliminating intermediaries.
It might work particularly well in shipping. Smart contracts — essentially logic rules or self-executing code — can save time. If a component is going to be shipped from Japan to San Francisco, if it arrives in good condition and before the deadline, the smart contract can automatically generate a payment with no 30-day invoice and no ledgers. Walmart is running a pilot program with IBM using Hyperledger Fabric (IBM's proprietary blockchain platform) and IBM Cloud to track leafy green vegetables from supplier to store, and will require all suppliers to be able to upload data to the blockchain by September 2019.
Manufacturers planning to start using blockchain should carefully consider data privacy regulations, said Jehl. A blockchain public key that can be identified with "off-chain" personal data is considered personal under GDPR. Design your solution with this in mind.
Several relatively large manufacturing companies have launched blockchain consortia or partnerships recently. Auto manufacturers launched MOBI (Mobility Open Blockchain Initiative) on May 1, 2018, with Ford, GM, Renault, and BMW and others using Bosch, Accenture, and IBM as implementation and tech vendors. They aim to create standards for payments and data-sharing between cars. They also aim to explore using blockchain to enable autonomous cars to process payments, for example for parking fees, automatically. In January 2019 a multinational group of firms lead by Ford and IBM launched a group for commodities pilot to track cobalt from the mine to a Ford plant, in order to help validate ethical sourcing.
Robert Musiala, counsel at BakerHostetler, said he believes the pharmaceutical industry will be the first to deploy mature blockchain solutions, due to the Drug Supply Chain Security Act, which is phasing in this year and runs on Microsoft Blockchain via Azure. After this, the regulatory environment will influence when, where, and how manufacturers choose whether to implement it.