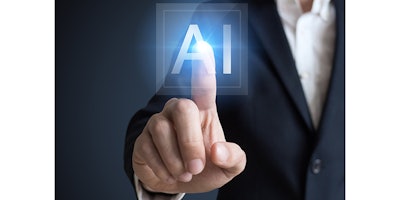 Food manufacturers are operating in the digital age, in a new, highly competitive marketplace that many call the "age of the customer." There's increasing pressure on sales teams to drive revenue and margin growth, while at the same time delivering a personal experience to every buyer.
This new business continuum requires companies to examine how they do business in a new, modern commerce world, with cross-channel selling and frictionless buying experiences accompanied by transparent pricing. Many companies are turning to artificial intelligence (AI) and machine learning to help them deliver the experiences their customers require.
Take a look at the recent debut of Amazon Go, a prime example of how companies are betting hard that consumers will increasingly value speed, efficiency and a technologically advanced buying experience. Strong consumer response illustrates they're more than ready to leverage AI to make that experience a reality.
Similarly, the B2B food industry can benefit from AI to operationalize their go-to-market strategies and win over customers. It's only a matter of time until AI and machine learning are fully integrated in the food industry. According to Gartner, AI technologies will be a top-five investment priority for more than 30 percent of CIOs by 2020. In short, the use of these new technologies will enable food manufacturers to deliver prescriptive, automated insights that help companies work faster and smarter.
Understand The True ROI On AI
With the help of AI and machine learning, sales teams in food manufacturing companies can identify new opportunities to understand their buyers and personalize their experiences. Applying machine learning helps organizations refine the offers for each buyer as their preferences evolve over time. Machine-learning algorithms, in particular, can help sales teams better serve their customers for several reasons:
Predict churn with existing accounts: Machine-guided data patterns enable sales teams to identify accounts with declining purchasing behaviors. They gain the advantage of addressing issues before a customer decides to leave.
Personalize product and price offers: Machine-learning algorithms can mine transaction data for patterns in customer buying histories. Sales teams can understand which products customers gravitate toward and spot behaviors that indicate price sensitivity. These automated results save sales professionals valuable time and take the guessing game out of the equation.
Uncover inconsistent purchase patterns with outlier algorithms: Based on AI-powered data, food manufacturers can spot inconsistent purchasing behaviors. This helps sales teams adjust their strategy to convert fickle buyers into more consistent, predictable customers and positively affect the bottom line.
Identify cross-sell opportunities through connection and consistency algorithms: With the help of AI, sales teams can identify cross-sell gaps in product purchasing when compared with similar customers. A food manufacturer, for example, could detect opportunities to add cheese orders for existing milk customers. By using machine-guided data to tailor upselling opportunities, the manufacturer can better anticipate customer needs while also expanding sales.
Better Customer Experience Equates To Better Profits
Customers are looking for a frictionless, personalized modern commerce experience, and the use of AI in food manufacturing stands to have a direct, positive affect on the customer experience. These technologies facilitate real-time, transparent engagements, product offerings and price quotes. In fact, 86 percent of buyers say they are willing to pay more for better experiences and greater transparency. Simply stated: Better customer experience translates to increased profit margins.
Food manufacturers should consider AI their best new tool in 2018 for driving sales and revenue growth. The technology adds greater precision to sales processes and provides opportunities for automation in today's fragmented marketplace. AI is not a futuristic concept — it can be leveraged today to make operations more productive, efficient and profitable. With the speed of the marketplace and the rate of exponential change, it's time for food manufacturers to assess next steps.
Matt Bennett serves as Director, Strategic Consulting, for PROS, Inc.