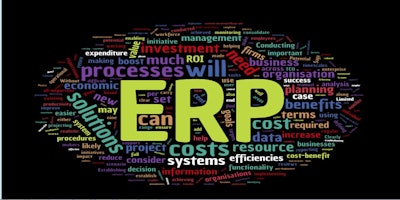 Conducting a cost-benefit analysis for ERP analysis for ERP The number of businesses and organisations embracing enterprise resource planning (ERP) has increased at a steady rate in recent years. More firms have been attracted to the discipline by the desire to integrate and consolidate management information, and make data available to decision makers throughout the enterprise. In a survey conducted by the Aberdeen Group, nine out of ten manufacturing firms said they had implemented ERP solutions in a bid to improve resource planning, drive efficiencies and boost organisational growth. And according to a study conducted by Panorama Consulting, almost nine out of ten (86 per cent) firms using ERP are satisfied with the results of their initiative. Conducting a cost-benefit analysis for ERP Establishing an economic case for investment But before implementing ERP across their organisation, business leaders need to establish an economic case for investment. It is important to weigh up the costs - in terms of both capital and operational expenditure - and then compare this to the expected return on investment (ROI). Where the projected ROI exceeds the total cost of ownership (TCO), resource planning should have a positive impact on profitability, making investment in ERP processes and systems easy to justify. However, it is important for budget holders to consider a full range of potential costs and benefits - based on their own characteristics and ERP needs - before committing to a particular course of action. Potential costs of ERP initiatives In terms of ERP costs, businesses need to consider: • Acquisition - how much will it cost to deploy the ERP solutions required to improve the quality and accessibility of your management information, and then draw insight from the data? Is there a need to invest in new hardware to support the functionality of ERP solutions? • Customisation - how much will your firm need to spend implementing solutions to fit your business model, and those of any individual divisions or subsidiaries requiring their own tier of ERP? New ERP solutions will need to be integrated with existing systems. • Testing - where ERP solutions are being deployed, the technology partner will be required to carry out technical tests to ensure the user will benefit from full functionality. This may also require some involvement from your staff, taking them away from their normal work duties. • Upgrades - how much will it cost to conduct periodic ERP reviews, and carry out any upgrades that may be required over time? How much will it cost to add extensions to the system to increase functionality? • Conversion - how much will it cost to convert files to the new ERP system, and consolidate management information on the news platform? What will be the financial impact of phasing out old procedures and legacy solutions? • Personal Development - how much will it cost to reorganise your workforce, update manual processes and train employees to use the new ERP solutions? Consider the need to deliver ongoing support to the workforce, with regular training rather than a one-off introductory session. • Unforeseen expenditure - there are always likely to be some costs which cannot be budgeted for when revising operational processes and introducing a new way of working. Costs need to be considered on a monthly and yearly basis, in a bid to establish a best and worst-case scenario for spending on ERP. This provides a benchmark for projecting return on investment, and establishing the economic benefits likely to be delivered through an ERP upgrade. Conducting a cost-benefit analysis for ERP Potential benefits of ERP initiatives ERP processes can offer a number of benefits to organsiations, including: • Streamlined procedures - the use of ERP solutions and streamlined resource management processes can help simplify procedures, helping to reduce re-work and manual handling costs. • Greater intelligence - decision makers can monitor performance in individual departments and across the organisation as a whole, and consider the inter-dependence of different areas. Integrated data supports effective decision making processes. • Increased productivity - Manual tasks can be automated, helping to increase speed of delivery, boost accuracy and reduce the pressure on employees. Key workers can focus on value adding tasks, enabling them to boost productivity and output. • Greater reliability - ERP systems can flag up inaccuracies and errors, allowing decisions to be based on more relevant and accurate data. As such, firms are able to reach the most desirable outcome more frequently, which should help achieve efficiencies and boost customer engagement. • Improved reporting - Benchmarking is easier, as ERP systems make it simpler to record and report data across a range of tangibles. Monitoring business processes becomes easier, enabling earlier troubleshooting. Clearly defining targets for the ERP initiative, and then monitoring the success of the project in achieving these, is all-important. Without a clear set of end goals, organisations may find it difficult to set realistic expectations, in terms of timescales and costs. Setting the level of expectation It makes sense to be conservative when projecting the economic benefits of new ERP systems and processes. If the goals for your project are set unrealistically high, they are unlikely to be achieved - impacting on the perceived success of the implementation. Working out a 'worst case' cost scenario, along with a 'likely' estimate, is also advisable for businesses and organisation. This should help ensure there are no unpleasant surprises, in terms of the ROI of the ERP project, further along the line. Establishing a sound business case for investment in ERP is vitally important, particularly in a tough economic climate with budgets remaining constrained. This gives project goals a strategic context, making it easier for executives to decide whether to opt for ERP. Achieving maximum value from ERP The challenge for your organisation is to maximise the potential benefits of ERP post-deployment, while keeping costs under tight control. One of the ways this can be achieved is by carrying out regular process reviews, using both quantitative data and direct feedback from personnel involved in resource planning. Identifying flaws in existing ERP systems, or areas where improvements could be made, gives your organisation the chance to either add value or increase efficiencies. If aspects of the resource planning system are not working, amendments can then be made - either to the software deployment or to people processes as required. In successful implementations - which have been properly planned in consultation with an ERP expert - the ROI should ultimately exceed the TCO, delivering value to the user. Examples include: • Lakeside Plastics increasing business by 15 per cent from a similar cost base using ERP. • Columbia Manufacturing cutting the use of utilities by up to 98 per cent to reduce expenditure and increase its profit margin. • Urban Ministries reporting "remarkable efficiencies and savings" in order processing - which used to take days but is now completed "within a matter of minutes" - as well as reduced shipping and production costs. "Clearly defining targets for the ERP initiative, and then monitoring the success of the project in achieving these, is all-important. Without a clear set of end goals, organisations may find it difficult to set realistic expectations, in terms of timescales and costs." Sage (UK) Limited Noth Park Newcastle NE13 9AA Telephone: 0845 485 9800 Email:
[email protected]
Web: www.sage.co.uk/x3 © Sage (UK) Limited 2013 07/13 18652LC Paper from well managed forests If you'd like this information in another format, please call Customer Care on 0845 111 66 66 or email
[email protected]
so we can consider your request.