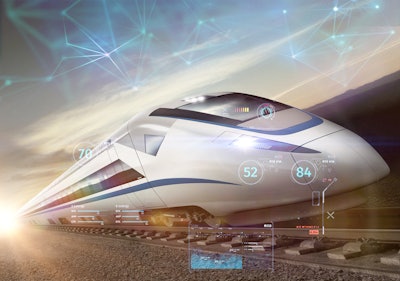 The connectors used in the railways are installed across challenging terrain and exposed to unexpected environmental extremes. Regardless of those challenges, the trains should run punctually, efficiently and safely. Therefore, the connectors used in the railway industry are required to meet the highest safety and standards to ensure that they perform consistently and withstand extreme temperature, humidity, and other potential risks.

Mencom offers a wide range of versatile interconnection solutions for the railway and mass transit industry. Not only are they shock, vibration and corrosion resistant while providing the top performance and reliability with a proven track record, but also fully compliant with all relevant railway standards as well as fire and smoke requirements. The railway connectors are used for data transmission along tracks, passenger rolling stock equipment including brakes and controls, signaling systems, and power transmission on trains and track systems.

M12 Over-Molded Circular Connectors for Railway

Mencom M12 circular connectors are rugged, compact, durable, and sealed. This pre-assembled solution is especially ideal to withstand a variety of severe environmental, industrial and chemical conditions. In addition, Mencom M12 circular connectors are highly configurable while featuring an IP67 rating and optional shielding. The keyway codings are available in A-coding & B-coding (Actuator-sensor plug, DeviceNet, IO link and Profibus) and D-coding (Industrial Ethernet, Ethernet/ IP for Railway Applications). Custom solutions are also available to meet the unique specifications of the railway. Mencom M12 connectors are UL listed.

Heavy-Duty Multipole Rectangular Connectors

For the electrical railway applications which demand higher voltage and amperage ratings, Mencom offers the rectangular multipole connector solutions. They are comprised of two parts; Inserts and Enclosures.

Inserts for multipole rectangular connectors are made of self-extinguishing thermoplastic resin UL 94 V-0, normally used for applications in a maximum ambiance temperature of 125 °C. The end user can choose a wide range of inserts based on the requirements of the railway applications such as the rated voltage (from 50V to 5000V), the rated current (from 5A to 200A max), the number of poles, and the different load combinations required (power and signal poles within the same insert). The inserts are approved in accordance with the approval marks including UL, CSA, CQC, GL, and EAC.

Various enclosure versions are offered with different combinations of body and coating materials to protect connections in harsh environments. The enclosure series is available for the normal environment, high-temperature environment, aggressive environment, and environments that require electromagnetic compatibility. In order for the coupling stability and enhanced protection against accidental opening, the enclosures are equipped with single or double closing devices featuring levers, springs, or pegs. Sealing is assured by special gaskets that protect the contact groups inside the enclosures against dust and aggressive agents even under impacts and strong mechanical stresses. In general, the coupled enclosures guarantee IP44, IP65, IP66, IP67. However, IP68 or IP69 (IEC/EN 60529) are achievable with IP68 or E-Xtreme enclosure series.

EN50155 Railway Networking

EN 50155 is a widely recognized international standard for electronic equipment used in any railway application. This standard covers aspects of this electronic equipment including temperature ranges, humidity, shock resistance, vibration resistance, power supply, electromagnetic interference/susceptibility, power surge, electrostatic discharge (ESD) and transient factors. Mencom railway-certified switches combine the powerful platforms of industrial Ethernet switches and all of their advanced features in a robust and reliable unit.