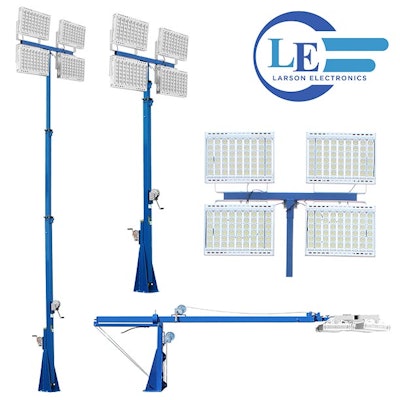 Industrial lighting specialist Larson Electronics has announced the release of a 25 foot telescoping light mast with 360° rotating capabilities that is equipped with four 400 watt LED light fixtures.
The LM-25-3S-4X400W-LED produced by Larson Electronics features a rotating boom that allows for 360° of rotation, a removable mast head affixed with four 400 watt LED light fixtures, and an easy fold over assembly. This three stage light boom can be extended to a height of 25' for effective coverage and collapsed to 12'. The mast is elevated from its folding position with a 2,500 pound hand winch that is fitted with 3/16" cable. A second 2,500 pound winch provides the 12' to 25' elevation of the mast. The 360° rotation is provided by a single T-Handle. By loosening the T-Handle, operators can rotate the mast with ease in either direction and lock it into place once the desired position is found. These light masts are typically mounted to trailers or other stable surfaces by a 15" by 13", ¼" thick mounting baseplate which has been predrilled to accept six 5/8" anchor bolts.
This light mast includes four of our wet area suitable LED fixtures that produce a combined total of approximately 208,000 lumens at 1600 watts. A 52" long mounting plate constructed of 2" by 2" by ¼" thick carbon steel is attached to the upper section of the mast which provides a strong and stable platform for the four light fixtures. Each floodlight is securely fastened to the mast head with an innovative trunnion style stainless steel mounting bracket that allows the light to be adjusted through 180° of vertical movement. These LED lights offer increased durability, longer lamp life, and lower power consumption when compared to the 1000 watt metal halide equivalent. This LED light tower is equipped with forty feet of 16/3 chemical and abrasion resistant SOOW cord that is fitted with an industrial grade cord cap for easy connection to common wall outlets.
"This new LED light tower provides operators with a durable, reliable bright source of illumination for large work areas," said Rob Bresnahan with Larsonelectronics.com. "This heavy duty unit is designed for use in demanding conditions and for overall longevity in difficult construction environments."
Larson Electronics produces a full range of industrial and commercial lighting equipment, telescoping light towers, explosion proof lighting, and LED work lights. To view the entire Larson Electronics line of industrial grade lighting solutions, visit them on the web at Larsonelectronics.com. You can also call 1-800-369-6671 to learn more about all of Larson Electronics' lighting products or call 1-214-616-6180 for international inquiries.