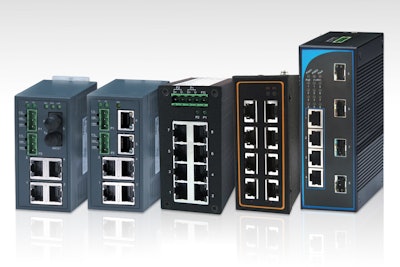 Mencom Corporation Announces Plug and Play Entry-Level Unmanaged Ethernet Switches for Harsh Industrial Environments at Pack Expo 2017 – Booth #S-5972 in the South Lower Hall

Mencom's entry level DIN-rail-mount unmanaged Ethernet switches offer a reliable, robust, and cost-effective solution to most of the simple network topologies. With IP30 rating, all of the unmanaged switches are certified for Industrial EMC (EN61000-6-4 and EN61000-6-2), and support redundant power-input for enhanced safety that can be connected simultaneously to a wide range of DC power sources. If one of the power inputs fails, the other live source acts as a backup to provide the power needs automatically. They can operate in temperatures ranging from -10 to 70 °C with steel and aluminum housing, and 0 to 60 °C with the plastic housing. Selected products support packet Prioritization for Profinet. During normal use, broadcast packets will be forwarded to all ports except the source port. However, it will discard broadcast or multicast packets if the number of those packets exceeds a threshold in a preset period of time. When the preset period expires (about 800ms), it will then resume receiving broadcast or multicast packets until the threshold is reached again.

Mencom also offers the enhanced versions with Power-over-Ethernet (PoE) and Gigabit Small Form-factor Pluggable (SFP) support to ensure suitability for simple industrial applications. Since PoE versions have power on the network, a qualified electrician is not required for installation and distribution of network connections is more effective and simpler than non-PoE versions. The number of Fast Ethernet or Gigabit Ethernet ports on the switches range from 4 up to 8 and selected models have both single-mode or multi-mode fiber-optic uplink. All the entry-level unmanaged industrial Ethernet switches provide no configuration required plug-play environment.