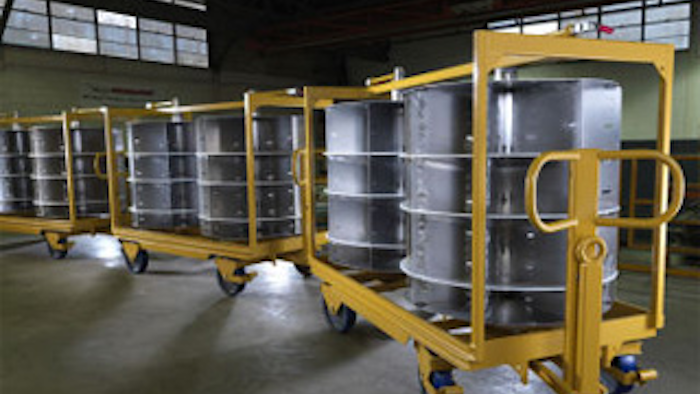 With the added capacity of Hamilton's (Hamilton, OH) new truck factory, the company says it can handle massive orders like this with ease. Plus, we can build even larger carts and trailers faster than ever. Here are the tech specs:
All steel four-wheel steer trailer with sheet aluminum carrousels minimize trailer weight and cost.
Custom removable superstructure mounted over channel frame base trailer. Designed to haul 48 parts in 12 by 12 lined cubby compartments. Special lining protects parts in transit. Adjustable shelves can accommodate part changes in the future.
Fifth wheels at each end connect to a tie rod for four-wheel steering. Enables trains to "track" through aisles.
Running gear: Four W-1230-SPB ¾ Poly-Soft wheels with precision ball bearings for an extra-smooth ride and easy rolling.
Load capacity: 2,000 pounds
See more at www.hamiltoncaster.com.