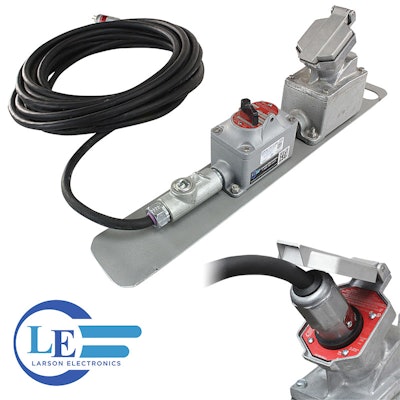 Longtime leading supplier of explosion proof lighting equipment Larson Electronics has announced the release of a heavy duty extension cord equipped with a twist lock receptacle, a 5-15 explosion proof straight blade plug and an inline switch.
The EPEXC-25-ILS explosion proof extension cord from Larson Electronics allows operators to safely extend the range of their explosion proof lighting or equipment beyond the boundaries of the hazardous work area. This extension cord is constructed of twenty-five feet of 14/3 SOOW explosion proof cord and is rated at 15 amps of continuous service. This explosion proof extension cord is chemical and abrasion resistant and comes with a Class 1 Division 1 explosion proof receptacle and switch installed on one end and a Class 1 Division 1 explosion proof plug on the other end. The receptacle on this cord is a twist lock design which ensures a safe seal is made before any sparks from electrical contact can take place. In order for a secure and working connection to take place, the operator must insert the plug and twist until it locks into place. This unit includes an inline switch which allows operators to leave the cords plugged in and switch equipment on or off within the hazardous work area. This switch also allows operators to safely connect and disconnect equipment downline of the switch by turning the switch off before changing connections.
Larson Electronics produces a full range of industrial and commercial lighting equipment, explosion proof extension cords, explosion proof plugs and receptacles, light towers, and LED work lights. To view the entire Larson Electronics line of industrial grade lighting solutions, visit them on the web at Larsonelectronics.com. You can also call 1-800-369-6671 or call 1-214-616-6180 for international inquiries.