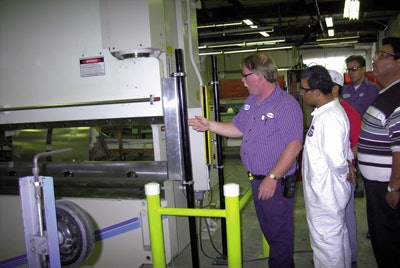 Companies Worldwide Protect Employees and Capital Investment
With Omron's Annual Machine Safety Check-Up

FREMONT, CA (May XX, 2015) – Omron Safety Services offers manufacturers and OEMs a way to keep employees safer while protecting their investment in machinery. An experienced Omron safety system field inspector performs Omron's Annual Machine Safety Check-up Service. This value-added service consists of an inspection of the machine's safeguarding systems, including: safety device applications, fixed and moveable guards and compliance, visibility of hazards, point-of-operation and perimeter guards, energy isolation devices, emergency stop, mechanical power and transmission guards. Omron's field inspector also reviews any modifications to the machine's location, uses and addition/removal of peripheral or auxiliary equipment

After the inspection is complete, companies receive a safety system check up report with pass/fail compliance for each inspection checkpoint, along with recommendations or corrective action recommendations for any failed checkpoints. All machines that are compliant with the current safeguarding regulations will receive a dated validation sticker to be placed on the machine.

How Companies Benefit:
• Maintain plant operator machine safety
• Maintain records of OSHA and ANSI standards compliance
• Maintain the value of the initial safety investment and prevent losses
• Peace of mind: safety systems are verified for proper operation and functionality
• Inspection performed by the experts and a documented inspection report provided

Omron's Annual Machine Check-up Service identifies potential safety issues, but does not include repairing, adjusting, or replacing guards and devices, implementing corrective action, or performing stop time measurements. Omron safety experts in a separate follow up service can perform corrective action and stop-time measures.