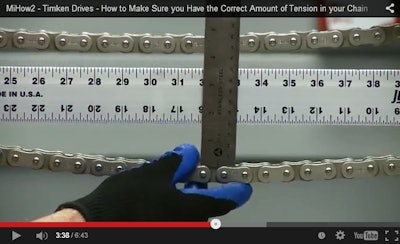 Motion Industries, a leading distributor of industrial maintenance, repair, and operation (MRO) replacement parts is pleased to announce the release of the new search tool provided on MiHow2.com, which makes MiHow2 videos easy to find by product type, subtype, manufacturer, and topic. The goal of the video series is to provide instruction to the viewers to help them with their practical applications.

"The number of MiHow2 videos available has really grown since we started the series in 2012, and the search tool will help viewers quickly find the topics they need at that moment," said Randy Breaux, Motion Industries' Senior Vice President, Southern U.S. Operations, Corporate Marketing and Strategic Planning. "The new page is designed to be viewers' go-to resource when they have questions or problems regarding industrial equipment and safety products."

Tom's Toolbox and other Motion Industries videos are also accessible via the search tool, or can be browsed via the tabs on the new page. Convenient links allow the viewer to find out more about and "shop" the items shown in each MiHow2 and Tom's Toolbox video.

MiHow2 and the spin-off Tom's Toolbox videos show the viewer, step-by-step, how to do certain tasks that solve or prevent common issues or problems in the industrial world. Titles include:
How to Make Sure You Have the Correct Amount of Tension in your Chain How to Install a Reliability Kit on Rexnord Quadrive Gear Reducers Advantages of Hypoid Gearing over Worm Gearing
Self-Dumping Hopper
iLok™ Hand Torque Couplings LPS PreSolve Degreaser
How to Select the Correct Power Team Cylinder RunRight® Self-Adjusting Tensioner

Each MiHow2 video is filmed in a workshop or appropriate off-site setting and features Motion Industries' host, Tom Clark, and a guest from one of the market-leading manufacturers demonstrating a product or application.

All 100-plus episodes are available for viewing via Facebook and YouTube. Additional MiHow2
videos are scheduled to be posted in coming weeks.


With annual sales of $4.8 billion, Motion Industries is a leading industrial parts distributor of bearings, mechanical power transmission, electrical and industrial automation, hydraulic and industrial hose, hydraulic and pneumatic components, industrial products, safety products, and material handling. Motion Industries has over 550 operations including 15 distribution centers throughout North America and serves more than 150,000 customers from the food and beverage, pulp and paper, iron and steel, chemical, mining and aggregate, petrochemical, automotive, wood and lumber, and pharmaceutical industries.


Motion Industries is a wholly owned subsidiary of Genuine Parts Company (NYSE: GPC). Visit our website at www.motionindustries.com. Contact us toll-free at (800) 526-9328.