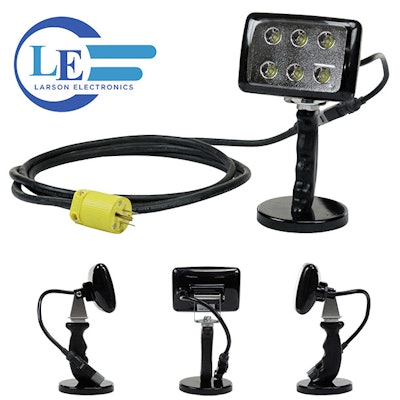 Leading manufacturer and supplier of industrial grade lighting equipment Larson Electronics has added a 6 watt LED magnetically mounted flood light with a twelve foot cord to their line of products.
The MUL-LED-WP50-12C handheld light emitter from Larson Electronics produces illumination comparable to a 50 to 75 watt halogen light without the high heat, fragile construction, or high energy costs of incandescent lighting. This portable work light offers a 50,000 hour service life and 120-277 volts AC compatibility, providing operators with a versatile and powerful LED lighting solution. This light is designed with six, one watt LEDs housed within a waterproof polycarbonate housing for durability. The lamp assembly is protected by a shatterproof polycarbonate lens which is secured to the housing with a waterproof seal. A ½" waterproof connector provides a secure and sealed power connection point and rounds out this unit's weather resistant construction. An adjustable U-bracket mount that is attached to the tip of the impact resistant handle allows the user to position the light wherever desired. Also included with this unit is a single 100 pound grip magnet that allows users to temporarily install the light to any magnetic surface and provides an easily removable solution for moving the light from one area to another.
This magnetically mounted LED flood light is equipped with 12' of 16/3 chemical and abrasion resistant SOOW cord that is fitted with an industrial grade cord cap for easy connection to common wall outlets. Plug options include a standard 5-15 15 amp straight blade plug for 110 volt wall outlets, a standard 6-15 15 amp straight blade plug for 220-240 volt outlets, a NEMA L5-15 15 amp twist lock plug for 125 volt twist lock outlets, a NEMA L6-15 15 amp twist lock plug for 240 volt twist lock outlets, a British BS1363 13 amp fused 3-blade plug for United Kingdom outlets, or a two pin 16 amp rated Schuko plug with ground contact and socket for European outlets up to 250 volts. Larson Electronics has expanded these cord cap options to most of their products in an effort to serve every customer's power requirement.
"This new work light can be used as an overhead light, pedestal light, and anywhere a portable and powerful light is needed," said Rob Bresnahan with Larsonelectronics.com. "By equipping it with a handle and a magnetic base, this unit can be used as a handheld solution or be magnetically mounted for temporary use."
Larson Electronics carries an extensive line of LED light towers, portable power distribution systems, explosion proof lights for hazardous locations, portable work lights and industrial grade LED area lights. You can view Larson Electronics' entire line of lighting by visiting them on the web at Larsonelectronics.com. You can also call 1-800-369-6671 to learn more or call 1-214-616-6180 for international inquiries.