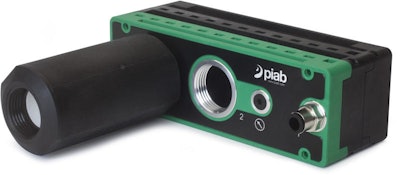 piCLASSIC provides up to 40% more energy efficiency over rotary vane pumps

Hingham, MA – piCLASSIC is Piab's upgraded vacuum pump series based on COAX® technology. Suitable for a wide range of applications with large capacities despite its small size and low weight, the piCLASSIC has been designed with greater efficiencies than previous pumps in this size class.

With an initial high amount of flow, there is no need for expensive vacuum tanks and vacuum valves that are usually needed on machines performing at high rates of speed using rotary vane pumps. With its compressed air source for energy, the piCLASSIC is easy to turn off/on thus ideal for operations that only need vacuum intermittently, a great energy saver.

"Capitalizing on the COAX® technology advantages over traditional multi-stage ejectors, the piCLASSIC is available with 70% more vacuum flow capacity than older designs," said Jan Schieche, Global Product Manager Pumps & Accessories, Piab.

piCLASSIC has a choice of three special options to enable optimized performance and capacity for the specific application:
• Xi – Best vacuum flow, with a final vacuum efficiency of around 95 % at deep vacuum levels. Suitable for non-porous applications when a deep vacuum level is needed.
• Si – Large flows at low and medium vacuum levels. Recommended for applications where leakage is a significant factor, such as in the packaging industry, and where ejectors are required with large flows to enable reliable gripping, lifting and moving.
• Pi– Low feed pressure of 45 psi and suitable for factories in industries with relatively low or fluctuating air pressure. There may be other pneumatic components in the machines that are sensitive to high pressure.
.
The piCLASSIC design features a low weight and a new modular design that allows the user to easily upgrade the pump's performance by adding cartridges (up to a total of 6). The piCLASSIC has a number of features that are seen as huge advantages over the traditional rotary vane vacuum pumps, such as; the piCLASSIC can be installed close to the point of vacuum, thus reducing energy costs even further. There are few moving parts so virtually no cost at all for downtime, service and repair. The new design dismounts easily for cleaning.

The piCLASSIC is also available with an energy-saving function for sealed systems.





About Piab
Established in 1951, Piab designs innovative vacuum solutions that improve the energy-efficiency, productivity, and working environments of vacuum users around the world. As a reliable partner to many of the world's largest manufacturers, Piab develops and manufactures a complete line of vacuum pumps, vacuum accessories, vacuum conveyors and suction cups for a variety of automated material handling and factory automation processes. Piab utilizes COAX®, the next dimension in vacuum technology, in many of its original products and solutions. COAX® cartridges are smaller, more energy efficient and more reliable than conventional ejectors, and can be integrated directly into machinery. This allows for the design of a flexible, modular vacuum system. Piab has a worldwide organization with subsidiaries and distributors in more than 70 countries, with headquarters in Sweden. For more information about Piab vacuum solutions for a diverse range of applications, visit www.piab.com.