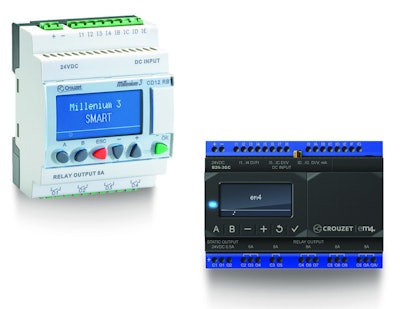 Crouzet Automation Features Unique Internet of Things Control Solutions for Water and Waste Treatment at WEFTEC 2015

MOORPARK, Calif. – Aug. 6, 2015 – Crouzet Automation will feature the new em4 nano-PLC with remote capabilities and proven Millenium 3 Smart Logic Controller, both designed to control, measure, monitor and log data for a variety of water and waste treatment applications, at WEFTEC 2015, Booth #5620, Chicago, Illinois, Sept. 28-30, 2015.

The featured products offer water professionals unique advantages not available with other types of controls, including remote management capabilities and easier than ever software programming. Demonstrating Crouzet Automation's commitment to the water industry, the company is also introducing a Water and Waste Treatment brochure that not only details valuable application information, product features, benefits, and specifications; it also provides a convenient chart that makes it easy to compare and choose the most appropriate control solution from the em4 and Millenium 3 product range.

"Performance functions unique to both the em4 and Millenium 3 make them true one-of-a-kind control solutions on the market," says Dave Carver, North America Sales Manager. "As part of the Internet of Things, the em4 opens up a whole new world of communication possibilities, including remote management, to all customers, even those without experience in managing networks or complex automation systems. Both products feature simple software that makes automated control and monitoring of machines extremely simple."

Developed for customers specializing in machine-to-machine technology, the em4 nano-PLC provides a totally integrated solution that allows device connectivity via the internet, without adding additional modules.
The em4 series includes the following:
• em4 remote (through web or smartphone): fully connected to the secure infrastructure
• em4 alert: capable of sending SMS or email alerts
• em4 local: for applications that do not require remote communication or require only a local area network

With its internet connectivity capability, the em4 remote provides programming, monitoring and control, and data logging with remote management of an application, a single machine or a fleet of machines. This complete solution includes the nano-PLC, SIM card, data exchanges as well as remote access web (em4web) and mobile platforms (em4 app).

Second in the control solutions line-up is the Millenium 3. This smart logic controller has capabilities to control and monitor machines or automated installations with up to 50 I/O, and features the easiest programming software on the market. The compact controller includes dedicated function blocks for application specific solutions and expandability.

For water treatment applications, Crouzet Automation's product offering is especially suitable for pumping/lifting, reverse osmosis, UV filtration, and Micro-purification. For waste treatment applications include bailers/compactors, misters/odor controls, automated composter, and pressure/steam washers.

For more information, visit www.crouzet.com or contact Dave Carver: Tel: (678) 880-6482, email dave.carver@cstsensors.com or automationsales@crouzet.com

About Crouzet Automation
Supported by an experienced technical team, Crouzet Automation is a pioneer in the simplification of programming. The brand offers the easiest-to-use and most adaptable alternative automation solution for specialized and demanding needs.

Manufactured in compliance with the most stringent quality and environmental standards, our products are specifically suited for integration in a wide range of applications such as waste and water treatment, access control, renewable energies, building equipment, industrial machines and transportation.

Crouzet Automation is a brand of Custom Sensors & Technologies (CST).

www.crouzet.com

About CST
Custom Sensors & Technologies (CST) is a global specialist in designing and manufacturing sensors, controls and actuators.

Through its brands, BEI Kimco, BEI Sensors, BEI PSSC, Crouzet, Crydom, Kavlico, Newall and Systron Donner Inertial, CST offers a wide range of reliable and efficient components dedicated to the Aerospace & Defense, Transportation, Industrial, Medical and Energy & Infrastructure markets.

Through the expertise, diversity and agility of its 4,400 employees worldwide, CST is focused on the satisfaction of its customers. Committed to excellence, with sales of $590M US in 2014, CST is the dependable and adaptable partner for the most demanding applications.

www.cstsensors.com

Photo Caption:
Crouzet Automation's control solutions for the water industry include the internet connectable em4 nano-PLC (right) and the Millenium 3 Smart Logic Controller (left).