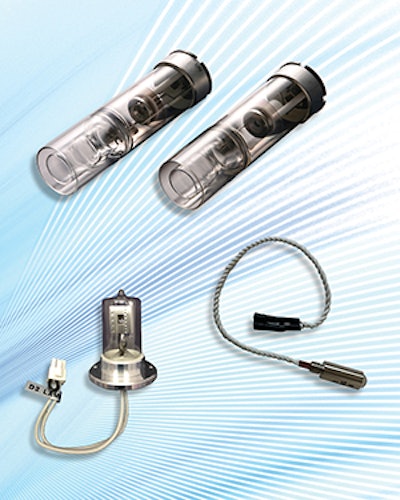 JM Science offers a large selection of Light Source Lamps for a wide range of instruments.

The atomic absorption lamps (AA Lamps) for spectroscopy instrumentation are priced for budget-conscience labs where AA spectroscopy instrumentation is used. The AA Lamps provide stable light output over the entire lamp life. JM Science's AA Lamps can be used in a spectrometer to determine different elements in solution and used in various areas of pharmaceutical, toxicology, and biophysics research. They are made in Japan and all connectors on the wires are exactly the same as the OEM instrumentation that they fit into such as Shimadzu and Hitachi.

The Deuterium Lamps (D2 Lamps) have been designed for AA, UV, and LC instrumentation for maximum, reliable performance. The typical lifetime of a deuterium lamp is approximately 2000 hours with a 5-year shelf life. We have an extensive list of cross-references part numbers from the various instruments designed for the D2 Lamp usage such as Shimadzu, Agilent, Waters, Thermo Fisher, Jasco and Hitachi instruments.

The RI Detector Light Source Lamp will fit these refractive index detectors: Shodex SE-61, RI-71 and RI-101; Perkin Elmer Series 200a and Flexar RI; ERC Refractomax Series, Thermo RI 150 and RI Plus; Hitachi L-7490.

All lamps are competitively priced and built with stable light for reliable, long-lasting, maximum performance.