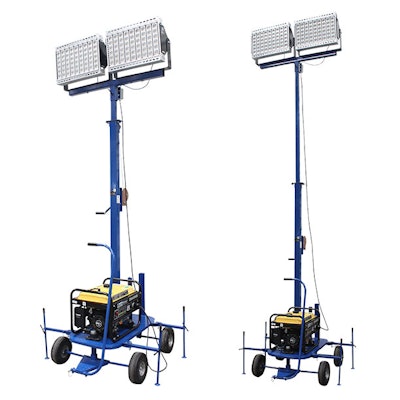 With over 40 years as a leader in the industrial and commercial lighting industry, Larson Electronics announced the release of a mini LED light tower featuring two 400 watt LED lamp heads, a 3,000VA generator for operation, and an adjustable tower built on a wheeled frame for portability.
The WAL-ML-2X400LTL-LED-3G mini LED light tower from Larson Electronics is an ideal solution for operators who need a fully portable yet easy to operate light system capable of illuminating large areas. Equipped with a heavy duty adjustable tower, a 3000 KVA generator, and two 400 watt high output LED lamps, this mini tower provides operators with an easily deployed lighting system that can provide illumination for up to ten hours on a single tank of gas. This portable lighting system is designed for standalone operation and high mobility while providing enough output to illuminate approximately two acres of area effectively. The tower is constructed of heavy gauge steel for durability, and a tough powder coat finish provides protection against rust and corrosion.
This mini LED light tower is comprised of two adjustable LED light heads mounted atop a telescoping mini tower, which is mounted on a wheeled cart base. Fifty-four Bridgelux high output LEDs producing 1,000 lumens each are arranged in rows and paired with high purity optics to produce a well-focused 25° wide spot beam that is ideal for providing far reaching concentrated illumination while still covering a substantial amount of area. This adjustable and collapsible tower can be extended to twelve feet, collapsed to seven feet, and includes four wheel s that allows the operator to simply roll the entire assembly to a new location when fully deployed. A single hand crank winch allows operators to easily raise or lower the tower as needed, and a removable lamp mounting platform allows operators to remove the lights for storage and transporting.
"This new mini light tower combines easy portability with a stand-alone power source to provide operators with a very dependable and easy to maneuver source of light for large areas," said Rob Bresnahan with Larsonelectronics.com. "The wheeled base with a built-in swivel handle allows operators to move this tower from one side of a work space to another with ease."
Larson Electronics carries an extensive line of LED light towers, portable power distribution systems, and explosion proof lights for hazardous locations, portable work lights, and industrial grade LED area lights. You can view Larson Electronics' entire line of lighting by visiting them on the web at Larsonelectronics.com. You can also call 1-800-369-6671 or call 1-214-616-6180 for international inquiries.