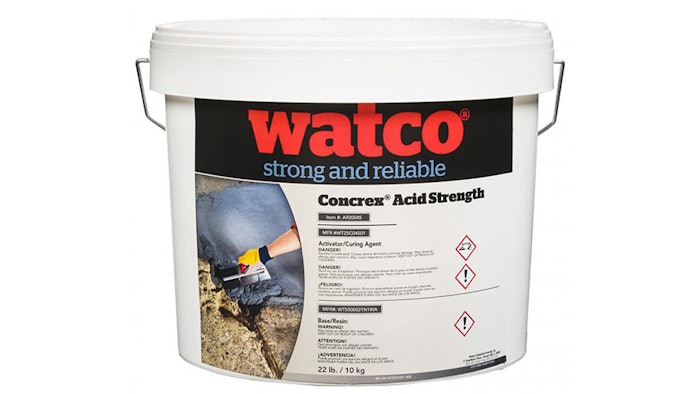 Watco Floors introduces new acid resistant concrete repair patch, Concrex Acid Strength, to fill in holes in floors caused by chemical damage. It provides outstanding chemical resistance, even against 95 percent sulfuric acid. Like all Concrex products it has more than twice the strength of concrete even at ¼-inch thick. To avoid saw cutting and grinding it can be feather edged to seamlessly match surrounding concrete surfaces.

Concrex Acid Strength has both a strong chemical bond and physical bond making it resistant to both acids and bases. With any repair to an area that has been damaged first clean the concrete and neutralize any acids or chemicals that may be on the surface to stop the reaction to surrounding concrete.

Concrete is alkaline in nature, meaning it breaks down when it comes in contact with acids and harsh chemicals. If the acids or chemicals are not cleaned up the area surrounding the repair will break up and pull away from the new repair. The more porous the surface, the quicker decomposition can happen.

Salt can cause damage and spalling of concrete surfaces over time, so can popular maintenance and manufacturing items like de-icing salts, salt water, chemicals containing chlorides and fertilizers. An exact means of damage is not solidified only understood. It is believed to have a combination of factors such as, pH level and increasing pore size in concrete.

Acids like phosphoric and most organic acids tend to be less corrosive to surfaces where nitric, hydrochloric and acetic acids are more aggressive and can damage floors very quickly. Sulphuric acid, commonly found in battery acid, attacks warehouse floors. Acids attack concrete by dissolving both hydrated and unhydrated cement compounds as well as calcareous aggregate. In most cases, the chemical reaction forms water-soluble calcium compounds, which are then leached away when cleaning.

This easy to apply two component epoxy repair mortar is simple to mix and quick to use. Concrex Acid Strength repairs cure in eight hours for light traffic and can be put back into full use after just 16 hours. It offers all the strength, and durability of original Concrex, but is ideal for areas where strong chemicals are used or stored.