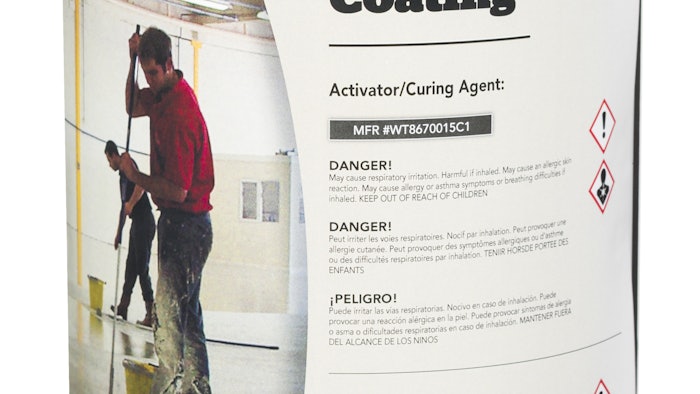 Watco Floors releases latest in polyaspartic resin technology in their Cold Set Coating, a floor paint designed to withstand high wear and tear from heavy warehouse traffic and cold temperatures. Providing high quality concrete floor paint is ideal in refurbishing and maintaining unheated areas when conventional coatings cannot cure. Painting in cold conditions can be unavoidable in not only the winter months but in freezer rooms, bay doors, food/beverage processing plants and dairies.
Cold temperatures are considered anything lower than 50°F and affect application, drying time and performance of coatings. Low temperatures extend your recoat time. Paints that are oil based become viscous or thick in cold conditions and latex paints will freeze. Water based paints will also freeze as temperatures approach 32°F. Watco's Cold Set Coating, as its name suggests, can be applied to most concrete surfaces as low as 14°F.
Cold Set Coating is ready for foot traffic in 24 hours at 32°F, while conventional floor coatings will fail to dry at the same temperature. This helps processing facilities and food storage areas to be put back in to use quickly. Flooring in areas like unheated storage rooms, walk-in freezers, loading docks and bays are often lower in temperature than other parts of a factory, warehouse or commercial building. If air is warm it doesn't mean the floors' surface is. Always check the floor temperature before applying a coating to ensure the best coverage and ideal results. An infrared thermometer is ideal for determining the floors current temperature.
Watco's polyaspartic floor paint provides excellent stain resistance and is low in VOC's. Cold Set Coating can be applied both indoors and outdoors and is UV stable. It is far more resistant to fading or yellowing that is traditionally seen with epoxies, making it perfect for outdoor applications or areas with direct sunlight exposure, like roller doors or windows.
By nature, polyaspartic coatings, like this one, are less rigid than epoxies. This is beneficial if there is a concern with abrasion or impact on the floor from tools falling, pallets dragging, and moving of heavy machinery. Epoxy floors may show signs of the coating cracking when impacted from tools and dragging of equipment. Proper preparation of floors is essential prior to application of Watco's Cold Set Coating to obtain great results.
Keep in mind when applying Cold Set Coating that it is designed to have high strength at a thin film. The recommended coverage rate is important so avoid spreading the paint on thickly. These coatings are sticky by nature and it is normal to feel some resistance on the roller during application. Also, be mindful of the coatings pot life when applying. It is quick curing and that curing process is accelerated if the mixed components are left to sit in the can once combined. Watco recommends immediately pouring off into a paint tray once mixing is complete. Coverage from this two-part polyaspartic technology is 270 square feet on non porous concrete. Cold Set Coating is available in a range of colors with direct shipping from Watco Floors.

About Watco:
Watco Industrial Flooring is a global manufacturer of high grade industrial concrete repair, floor coatings and anti-slip products. An international presence since 1927, and trusted by more than 150,000 companies, Watco products are used in various industries including warehouse, restaurants, schools, dairies, and sports arenas just to name a few.