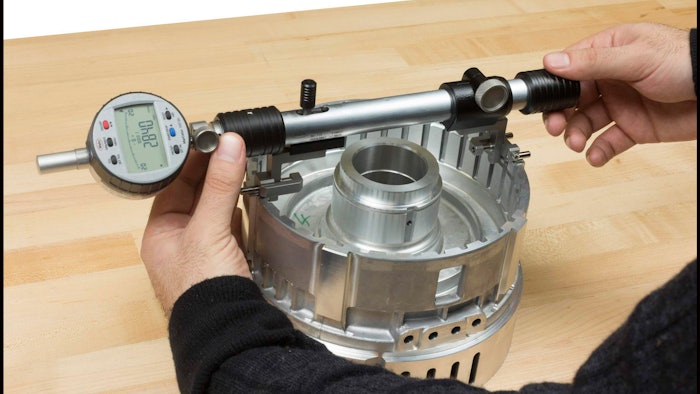 The Multimar 844 T Universal Measurement Gage from Mahr Federal can measure ODs and IDs up to 2500 mm with extreme sensitivity and accuracy. Improvements to the 844 T include a new precision guideway with ball bearings on the moveable arm to improve reliability and repeatability. New stop elements include 3-point support for tilt measuring motion on the workpiece. New heat isolating handles reduce thermal influences, and the Multimar 844 T now comes with a set of mounting stands to hold the gage when not in use, which helps prevent damage to the gage.
The Multimar 844 T can be fitted with any measuring indicator with an 8 mm mounting shank, including new wireless indicators for easy data collection with no cables. The stationary measuring arm can be moved along the column for coarse adjustment, and constant measuring force is applied due to a built-in measuring force spring. Both the direction of the measuring force and the measuring arms can easily be changed for either external or internal dimensions. Gages larger than 1000 mm (39.75 in.) incorporate a carbon fiber reinforced plastic tube to lighten the gage without losing stability.
Measuring applications include: IDs and ODs; external and internal thread measurements; centering shoulders, narrow collars, recesses and grooves; external and internal tapers; external and internal gear tooth profiles; and more. Multimar 844 T Universal Measurement Gages are available in seven models for different ID/OD size ranges and are supplied with battery, instruction manual, mounting and resting blocks and a wooden case.
For more information, visit http://www.mahr.com.