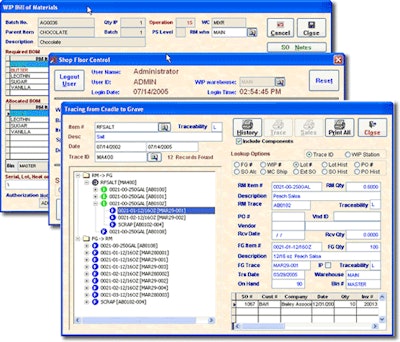 Company has integrated Seagull Scientific's BarTender labeling solution into its Manufacturing Conductor (MC) shop-floor control software, making it easier for small- and mid-sized manufacturers to ensure product labels meet regulatory, traceability and consumer requirements.
The MC solution is a propriety suite of management tools that give mid-sized food-processing and manufacturing companies the ability to increase shop-floor production efficiency, while ensuring end-to-end product traceability. BarTender's enhanced labeling capabilities, combined with the company's traceability expertise, are a major benefit to companies in industries with stringent or rapidly changing regulatory requirements. MC software has always generated identification labels, but BarTender makes it possible to create and modify labels with greater flexibility than MC could in the past.

Smaller companies, like locally grown food providers, often lose sales because they can't keep up with compliance requirements or trace bad lots when an emergency arises. With MC, it's now possible for mid-sized firms to meet regulatory requirements with a solution that's designed by people with hands-on shop floor experience. Furthermore, traceability is one of the biggest challenges manufacturers of all sizes face today, and it's especially critical for smaller firms because they're often perceived as riskier than giant companies with more resources.
Tamlin Software www.tamlinsoftware.com