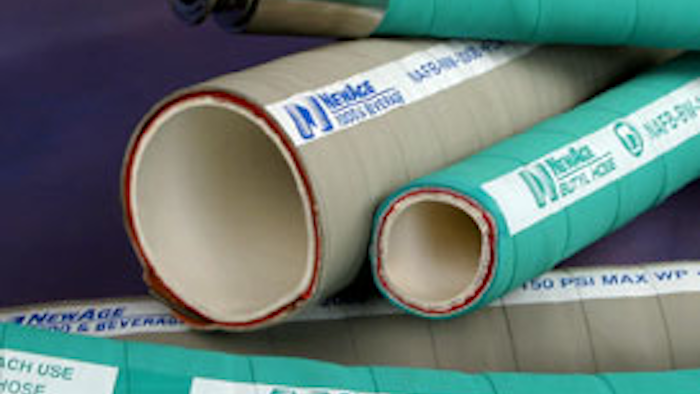 Company has introduced two new hose transfer solutions for the food and beverage industry. Reinforced Butyl Hose and Nitrile Hose contain smooth liners to allow unrestricted flow, minimizing concerns associated with entrapment and blockage. The hoses meet FDA standards and will not impart taste or odor.

Beer and wine beverage grade Butyl Hose, constructed with a high purity, white, chlorobutyl rubber liner, is ideal for non-oily beverage and food applications such as potable water, juices, wine and beer.

Food and beverage grade Nitrile Hose, made with a high purity, white, nitrile rubber liner, is suitable for a wide variety of applications including milk and dairy products, oily or fatty foods, dry bulk foods, potable water, juices and non-alcoholic beverages.

Both hoses contain a steel wire helix for reinforcement, along with multiple plies of polyester. Butyl Hose has an outer cover of green EPDM rubber, while the jacket of Nitrile Hose is gray nitrile rubber. The hoses are rated for full vacuum (29.9 in./Hg), making them appropriate for suction or discharge use.

Other common characteristics include:

- Microbe-resistant liners built on stainless steel mandrels for cleanliness
- Compounds contain no animal-derived ingredients
- Hoses meet FDA and Canadian Food Inspection Agency standards
- Available in bulk quantities or as complete hose assemblies with crimp-applied fittings
- Suitable for Clean In Place processes

Butyl Hose offers a temperature range from -40°F to 240°F (-40°C to 115°C) and is available in 1-1/2", 2" and 3" I.D. sizes. Nitrile Hose is more flexible than other rubber food and beverage hoses of similar construction. It offers an abrasion-resistant cover that is lightweight yet durable and is stocked in six sizes up to 4" I.D.

Company also offers antimicrobial tubing, braid reinforced NSF-listed hose, and silicone hose for food and beverage applications.
NewAge Industries  www.newageindustries.com