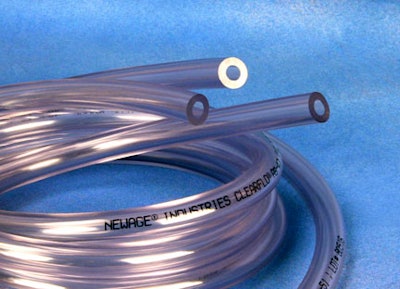 NewAge(R) Industries Introduces Clearflo(R) Ag-47 Antimicrobial PVC Tubing with Silver Ion Technology

Inhibits Bacteria Growth & Their Ill Effects

Southampton, Pa. — New from tubing manufacturer NewAge Industries is Clearflo Ag-47 antimicrobial tubing. Suitable for a variety of fluid transfer applications, Clearflo Ag-47 is designed to protect liquids from harmful bacteria that can result in taste transfer, odors and illnesses. Applications that can benefit from Clearflo Ag-47's antimicrobial technology include food processing and delivery, beverage transfer (including dairy and those containing alcohol), water lines, laboratory uses, medical devices and other clean fluid transfer processes.

Clearflo Ag-47 is manufactured from a clear, flexible PVC compound that is free of phthalates. It contains a Silver Ion additive, tested in accordance with ISO 22196:2011 on over 50 different species of bacteria, to guard against microorganisms such as E. coli, listeria, salmonella, legionella, MRSA, campylobacter and pseudomonas. The Silver Ion ingredient is throughout the tubing, not only on the interior as with similar products, for bacteria protection on all tubing surfaces.

Listed by the National Sanitation Foundation (NSF-51) for food equipment materials, Clearflo Ag-47 offers antimicrobial technology that is especially effective with the infrequent use of fluids in warm conditions such as beverage and food transfer. It is REACH and RoHS compliant, made from non-toxic ingredients conforming to FDA standards and does not contain latex or animal-derived components.

The transparent tubing handles temperatures between -40°F and 125°F (-40°C and 52°C) and is stocked and immediately available in ten sizes ranging from 3/16" through 1/2" I.D.

For more information on Clearflo Ag-47 antimicrobial tubing, contact the Fluid Transfer Specialists(R) at NewAge Industries, Inc., 145 James Way, Southampton, PA 18966; phone 800-506-3924 or 215-526-2300; fax 800-837-1856 or 215-526-2190; e-mail: info@newageindustries.com; product-specific web page: http://www.newageindustries.com/clearflo-Ag-47-antimicrobial-pvc-tubing.asp.

About NewAge Industries
In business since 1954, NewAge Industries manufactures plastic and rubber tubing in both reinforced and unreinforced styles. The company offers an overall product quality rating of 99.8%, provides custom extrusion and fabrication capabilities, and services customers worldwide. NewAge Industries maintains a large inventory and prides itself on same-day shipment of 99% of orders for its core product lines. In 2006, NewAge initiated an ESOP (Employee Stock Ownership Plan) for the benefit of both its employees and customers.

The AdvantaPure(R) division of NewAge Industries is ISO 9001:2008 certified and specializes in high purity tubing, hose, single use process manifolds and systems, and other molded components for the pharmaceutical, biomedical, food, beverage, and chemical industries. All products are manufactured, stored, and shipped using the cleanest methods possible to ensure unsurpassed product purity. Automated product identification systems, including gamma stable RFID tags and labels, are offered by NewAge's Verigenics(R) division.

# # #

Clearflo(R), NewAge(R), NewAge Industries AdvantaPure(R), Verigenics(R), and "Fluid Transfer Specialists(R)" are registered trademarks of NewAge(R) Industries, Inc.