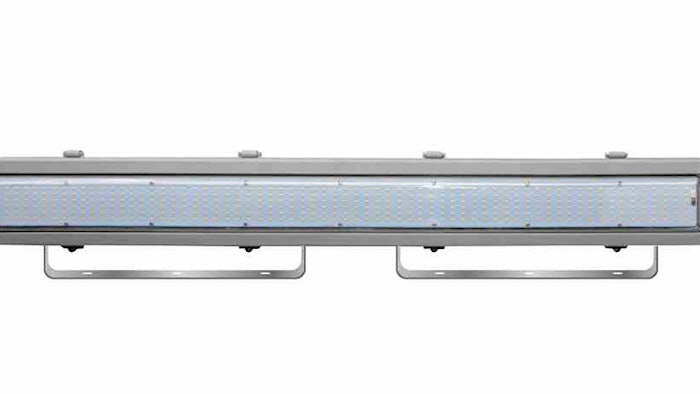 Larson Electronics LLC has released a 112-watt wash down LED fixture that offers 16,287 lumens of crisp white light in an 100º by 100º open frame, with a CRI of 80 and a color temperature of 5000K. This CSA-rated unit contains impact- and shock-resistant, no-glass polycarbonate LED bulbs, and sealed and corrosion-resistant aluminum hardware, providing reliable, stable lighting under even the harshest of conditions in food processing and preparation applications.
The WDL-48-320W-LED-TRN-WCM linear wash down light from Larson Electronics is an NSF rated, food safe fixture, and an ideal replacement for 320 watt metal halide or pressure sodium lights. This 112 watt LED light produces 16,287 lumens, drawing just 126 watts. This non-metallic LED includes a special heat dissipating design and advanced LED driver technology which gives this unit a great lifespan rating with excellent lumen retention. The beam is a stable and no-flicker beam, providing a solid-state lighting source.
This low profile, IP66 rated wash down light is constructed of heavy-duty and corrosion resistant die cast aluminum with a chromate conversion coating, finished with an additional powder coating for extreme durability. The shatter resistant LEDs are protected with an unbreakable polycarbonate lens, allowing this light to be used safely in food preparation applications. The unit is trunnion mounted and able to withstand powerful high-pressure jets and can operate in extreme temperatures between -40°C to +50°C.
"This wash down LED fixture is a very durable and compact light source that can be used safely and effectively in food industries," said Rob Bresnahan, CEO of Larson Electronics LLC. "The main concern with lights in food production and preparation is the potential to combust and contaminate the food, but this fixture is made of durable, non-explosive aluminum, shatter-resistant LEDs and an unbreakable lens that can withstand harsh power washes."
Larson Electronics LLC  www.larsonelectronics.com