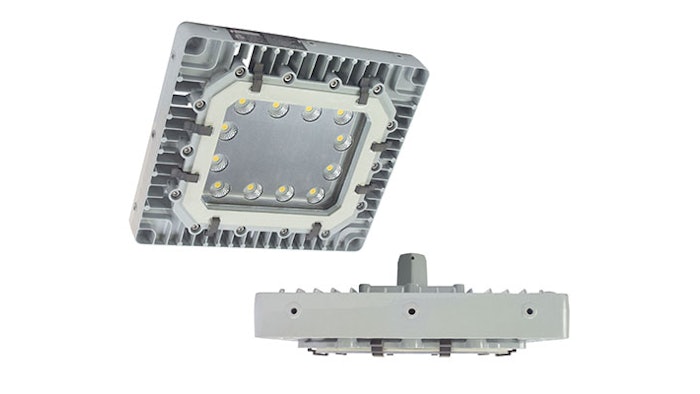 Larson Electronics has announced the release of a new explosion proof high bay food safe LED light fixture (EPL-HB-150LED-RT-NSF). This hazardous location light is approved for use within environments where flammable or combustible gases, vapors, dusts and fibers exist or stand the potential to exist, and is ideal for a variety of applications, including those that require food-safe lighting.
This Class 1 Divisions 1 and 2, Class 2 Divisions 1 and 2 explosion proof food safe LED light fixture has no exposed glass and provides 17,500 lumens of light while only drawing 150 watts. A special heat dissipating design and LED technology helps this fixture to achieve a 60,000 hour rated lifespan with 80 percent lumen retention. The food safe rating is achieved via a gasketed polycarbonate lens that covers the faceplate of the fixture and prevents any glass from being exposed. The gasket on this light is made from food grade materials allowing this fixture to be installed in Group G environments. The lens is available in both opaque and clear options.
The explosion proof high bay light comes standard with both pendant mount and adjustable surface mounting bracket and is universal voltage capable. It can be operated with 100-277V AC, 50/60 Hz without modifications to the fixture, and a low voltage version of this LED fixture that operates on AC/DC voltages from 11-25 volts for rigs and vision systems. Additional voltages not included are, 18-48V AC/DC for network systems and marine vessels, 347-480V high voltage, 125-250V DC, and 0-10V dimmable version. 
"The idea of having any kind of glass around areas where food storage or preparation takes place can be unnerving," said Rob Bresnahan, CEO of Larson Electronics." The polycarbonate lens on these explosion proof high bay LED fixtures eliminates that liability by catching and trapping any glass fragments in the event that the light within the lens is broken."
Larson Electronics  www.larsonelectronics.com