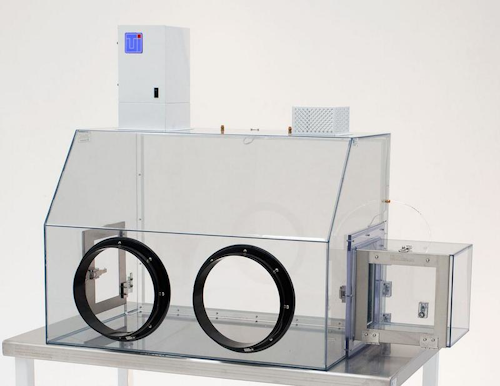 Fullerton, CA – Terra Universal introduces its open-loop filtration glove box, ideal for applications in cleanrooms or laboratories where both internal samples as well as the outside environment need clean, ULPA-filtered air.
Applications that generate particle contaminants, such as pharmaceutical packaging, will benefit from these open-loop glove boxes. Processes inside the chamber are protected with ULPA-filtered intake air, and the cleanroom or lab are also shielded from internal contaminants with the use of a second, optional ULPA filter. Air is not recirculated within the negative-pressure chamber.
Terra's open-loop glove box features a brushless, electrically-commutated motor that does not release particles into the controlled environment. Glove boxes are available in a choice of cleanroom-compatible plastics, and come with either two (one-person) or four (two-people) glove ports. The back is removable for placement of equipment.
Terra Universal has over 35-years of experience manufacturing cleanroom containment and isolation glove box chambers. For more information about the open-loop filtered glove boxes, visit http://www.terrauniversal.com/glove-boxes/filtered-containment-glove-boxes-single-pass-airflow.php.