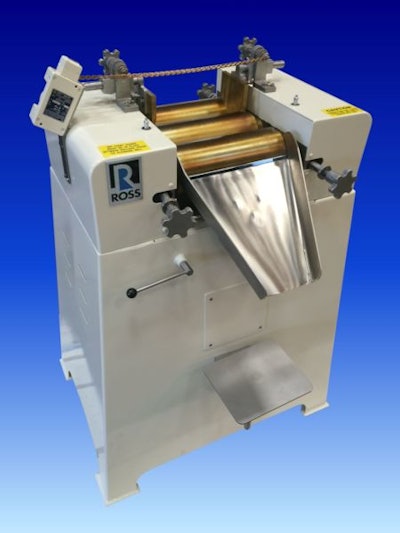 Ross Three Roll Mills are offered in a wide selection of capacities and features for handling virtually any laboratory application all the way to pilot- and full-scale production requirements.

The first Ross Three Roll Mill was built over 100 years ago. Today, thousands of Ross Three Roll Mills are in operation and producing fine dispersions all over the world. One popular model is the 5" x 12", shown here with hardened carbon steel 52100 precision ground rolls, each cored for water cooling and heating. Standard handwheel controls feature a quick release/reset engagement mechanism for easy operation and accurate repeatability, while a trip switch across the top of the mill helps ensure operator safety. Mounted to a heavy-duty free-standing base, the 5" x 12" Three Roll Mill comes with adjustable bronze endplates and stainless steel apron. A pre-programmed control panel is shipped loose with the mill for on-site installation.

Options such as hydraulic roll adjustments, hardened stainless steel rolls, coated rolls (aluminum oxide, chromium oxide or tungsten carbide), Teflon endplates, special roll setting gauges, analog position indicators, stainless steel sheathing and explosion-proof controls are available. For more information, call 1-800-243-ROSS(7677). Ask about our trial/rental options and no-charge testing services.