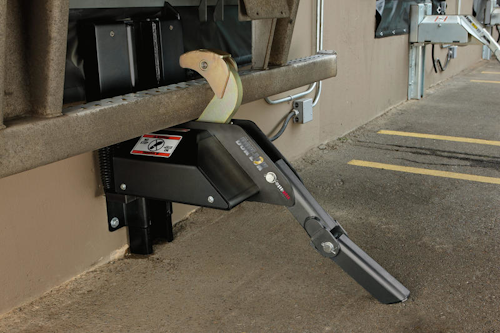 Rite-Hite is reinventing the vehicle restraint category with the introduction of the Dok-Lok SHR-5000. This exclusive, new restraint uses a patented "shadow hook" design to secure traditional trailers, as well as intermodal container chassis and trailers with rear-impact guard obstructions. The universal design of the Dok-Lok SHR-5000 is intended to meet the evolving needs of loading dock operators and the rise in intermodal container traffic, which is up 8.2 percent this year according to the Intermodal Association of North America.

In addition to having the most substantial wrap on rear-impact guards and the widest vertical engagement range (9-30 inches), the Dok-Lok SHR-5000 incorporates a shadow hook that provides an additional layer of safety when dealing with rear-impact guard obstructions.

The Dok-Lok SHR-5000 is engineered to withstand the harsh conditions of a loading dock environment. Its solid steel construction can withstand repeated contact with trailers backing in and out of the loading dock area, while powerful extension springs provide superior upward force against rear-impact guards to keep a trailer secure during loading – even with air-ride trailers. The Dok-Lok SHR-5000 features a corrosion-resistant finish and an IP-66 rated motor to prevent water and dust infiltration. Finally, the unit stores above ground to stay clear of ice, snow and other debris.

The Dok-Lok SHR-5000 comes standard with the Rite-Vu Light Communication System, which provides clear, constant communication of restraint status to the truck driver, forklift operator and loading dock personnel. In addition to lights on the control box, the system features Corner-Vu lights that are located in the upper corners of the interior dock door. These lights provide a highly visible status report as the forklift driver enters the trailer. There are also Leveler-Vu lights that are mounted on the dock leveler to confirm restraint status as the forklift driver exits the trailer. Rite-Vu provides real-time communication at multiple touch points to keep dockworkers safe throughout the loading and unloading sequence.