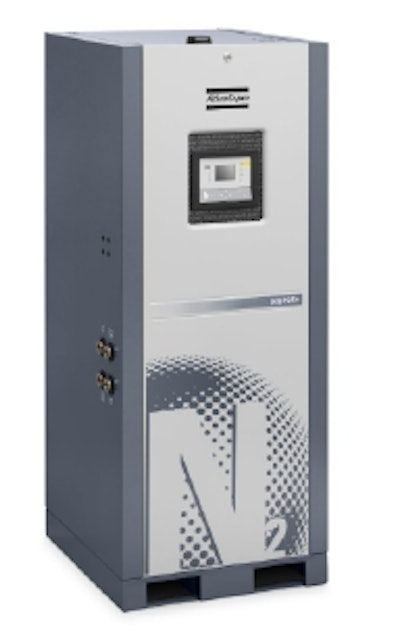 \Atlas Copco has launched a new generation of NGP+ on-site nitrogen generators with pressure swing adsorption (PSA) technology that produces nitrogen with purities of up to 99.999 percent while reducing energy consumption by 50 percent when integrated with an energy-efficient compressed air network. The NGP+ can be plugged directly into an existing compressed air installation and offers an independent, reliable and flexible supply of nitrogen gas.

Available in flows from 200 scfh to 21,860 scfh, Atlas Copco's NGP+ PSA on-site nitrogen generators utilize high quality carbon molecular sieves to adsorb oxygen molecules from compressed air. When tuned perfectly to the compressed air network, the NGP+ adsorbs more oxygen for the same input of compressed air compared to standard installations. The NGP+ also features sensors to easily adjust the nitrogen purity and pressure and remote monitoring technology to ensure reliability and optimize energy efficiency.

The new NGP+ complements Atlas Copco's full range of on-site gas solutions which includes nitrogen generators, also available with membrane technology, and oxygen generators with PSA technology. For applications such as laser cutting and bottle filling, Atlas Copco will launch a complete package with compressors, air treatment and nitrogen generators that deliver nitrogen at 5,075 psi.