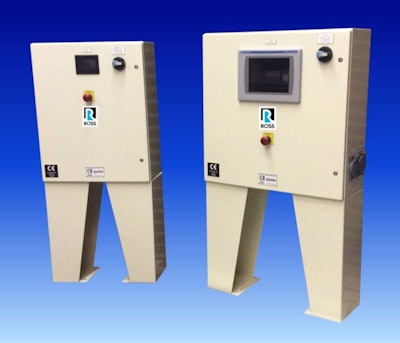 Ross SysCon manufactures UL-rated and CE-marked Control Systems custom-designed for virtually any industrial process such as mixing, pumping, chemical dosing, dilution, heat exchange, separation, drying and waste treatment. These PLC-based controls are routinely supplied with a recipe sequencing program, calibration menus, trending screens, data acquisition (SCADA) packages, operator-friendly alarms and advanced safety features. Process variables are controlled and displayed from a responsive color touchscreen, and can be automatically stored for seamless monitoring and reporting.

All Ross SysCon Control Systems are UL-rated and built to conform to NFPA 79 standards. CE marking can be provided as well to indicate full compliance with EU requirements. Enclosures and cabinets are NEMA 12 for non-hazardous environments, NEMA 7&9 for explosion-proof requirements or NEMA 4X (stainless steel) for washdown applications.

A subsidiary of Charles Ross & Son Company (www.mixers.com), Ross SysCon is a full service machine and controls fabrication facility, serving customers throughout North America, Europe and Asia. The company is comprised of a diverse group of veteran process control engineers, designers and programmers, offering decades of experience in multiple industries ranging from food, pharmaceuticals and cosmetics, to aerospace, adhesives, specialty chemicals, pulp & paper, plastics, energy and utilities.