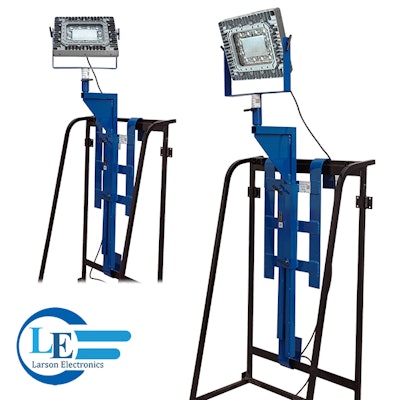 Industrial lighting specialist Larson Electronics has announced the release of a 150 watt explosion proof LED light fixture mounted on an adjustable scaffold bracket. The 150 watt LED light head produces 13,000 lumens of light and is attached to an aluminum rail/ladder mount bracket that allows operators to easily mount this unit to ladders, handrails, catwalks, and other similar structures.

The EPL-JH16C-150LED-RT-100 bracket mounted LED fixture from Larson Electronics is weatherproof and comes with an adjustable aluminum scaffold mount that makes it ideal for industrial applications, maintenance, cleaning and servicing duties, and large hazardous work areas. This unit contains a 150 watt LED lamp that produces 13,000 lumens of light capable of illuminating an area of 9,500 square feet. The lamp assembly on this unit includes a 150 watt LED lamp that measures 16" by 14, which allows it to fit through most standard sized manholes and entryways. The light is highly durable and produces high light in a wide flood pattern. The solid state LEDs in this unit have no filament and are thus highly resistant to damage from shocks or impacts.

The lamp is mounted to an aluminum bracket with an adjustable J-hook bottom bracket that enables operators to securely mount the light to any ladder or scaffolding. The aluminum bracket can be adjusted from 26 inches to 43 inches to allow mounting to a wide variety of railings, scaffoldings or ladders. This unit is supplied with 100 feet of 16/3 SOOW cord ending in an explosion proof straight blade plug. All of the hardware on this unit is non-sparking/corrosion resistant and the cord is resistant to damage from chemicals and abrasion. The unit is supplied with 25 peel off mylar overspray lamp protectors that provide the lamp protection from dirt or debris and can be removed, cleaned and replaced.

For more visit www.Larsonelectronics.com.