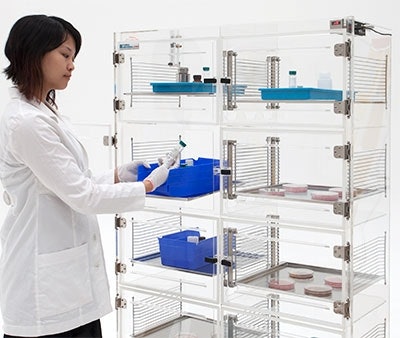 Terra Universal, the leader in cleanroom equipment and furnishings, introduces a plastic desiccator that provides automated humidity control at an affordable price. Terra's Smart humidity control module, sensor and safety relief/bleed (RB) valve provide a positive-pressure environment that automatically maintains low-humidity. Nitrogen purges the chamber to maintain the programmed set-point, cutting process gas expenses by up to 78%.
RB valves release moisture-laden air and excess pressure as the rapid-feedback humidity control system turns the nitrogen feed on and off when needed to maintain a user-selected relative humidity. Module programming takes only seconds with the easy two-button operation.

Cabinets are made of economic acrylic or static-dissipative PVC for samples sensitive to electro-static discharge. The desiccators yield a long service life featuring reinforced doors and rigid cabinet structure. Not only are these designs ideal for optimal visibility of materials stored inside the chamber, but they are also available with chrome-plated or stainless steel adjustable shelves that make storing a variety of materials easy and convenient.