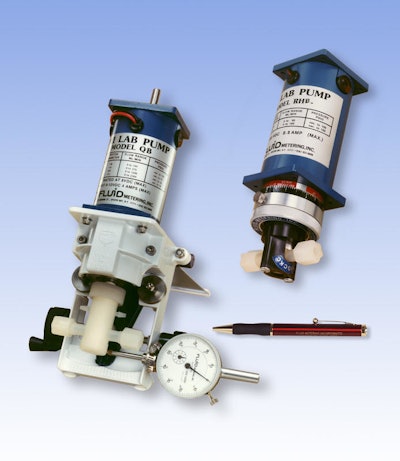 For many years Fluid Metering's pumps have been used by federal, state and local agencies for the control of adult mosquitos. Old technology was called thermal fog which burned diesel fuel mixed with insecticide. This method was expensive and environmentally hazardous.

Ultra-Low Volume (ULV) aerosol technology was later developed using compressed air and a very accurate metering pump to introduce the insecticide into the fluid stream. The new method reduced costs as well as environmental impact.

FMI's unique valveless piston pumps have proven ideal for ULV fluid control. Sapphire-hard internal ceramics and the elimination of valves found in conventional pump designs virtually eliminate routine maintenance and downtime while improving precision to 1%. Variable speed DC drives are easily integrated to control flow rate proportional to vehicle speed. Flow rates are adjustable up to 2,300 ml/min with 1% precision and pressures up to 100 psi.

For over 55 years FMI pumps have been used Food & Pharmaceutical Processing; Medical, Analytical, & Laboratory Instrumentation; Industrial Process, Water & Wastewater Treatment, Environmental Monitoring, and much more.

For additional information visit our website at www.fluidmetering.com.