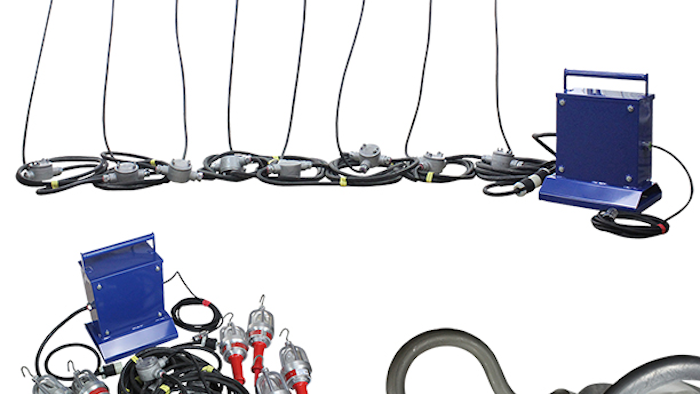 Industrial lighting specialist Larson Electronics reveals their newly designed Class 1 Division 1 explosion proof string lights with a portable power transformer, which inverts high voltage input to low voltage output for powering the hand lamps.

The EPL-SL-8X75-12V-TXF explosion proof string light set from Larson Electronics contains a total of eight work lights that are equipped with aluminum hooks and connected in series along 80 feet of 16/3 SOOW explosion proof cord. An additional twenty feet of cord is used to connect the transformer to the lamps to provide ample length for connection outside of a hazardous area. A sealed aluminum junction box is mounted every ten feet, with three feet of 16/3 SOOW cord connecting a single drop light to each junction box. Each hand lamp is equipped with a 100 watt incandescent bulb. The machined aluminum housings, cast aluminum guard, tempered glass lamp globe, and abrasion resistant cord make this a very durable unit that will resist damage from chemicals, abrasions, vibrations and impacts.

The hand lamps can be moved around and hooked to different points on a scaffold, but must remain within 10 feet of one another. The portable transformer converts 120/220 volts AC to 14 volts AC for the 12 volt 100 watt drop lights. The transformer is enclosed within a NEMA 3R enclosure and includes a twist lock receptacle and weather proof cover. This transformer is mounted on a stand and has 3' of SOOW cord with a standard 5-15 straight blade plug.

For more visit www.Larsonelectronics.com.