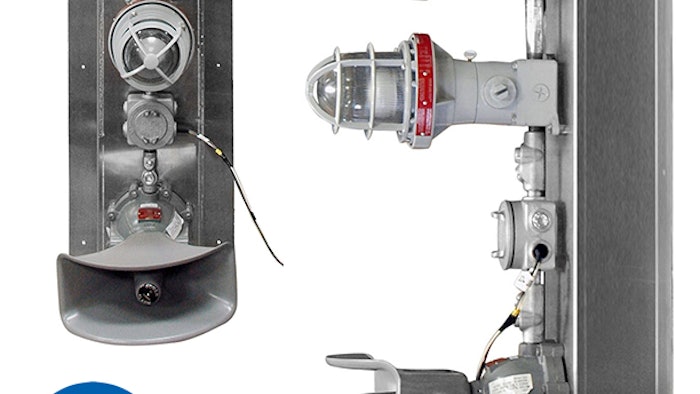 The EPL-TL-2X10W-C-PA from Larson Electronics is a Class 1 Division 1 and Class 2 Division 1 LED signal stack light equipped with an audible horn and is approved for use in hazardous environments where explosive and flammable gases, vapors, and dusts exist or stand the potential to exist. This explosion proof signal stack light is designed for routing traffic in industrial refueling stations and processing status indications in manufacturing facilities. This signal light is equipped with two 10 watt LED lamps that produce an amber and red output. These lights can be configured to operate on a steady burn, a strobe or a steady burn and strobe combination and each LED lamp offers an exceptional 1,050 lumen output. The explosion proof audible alarm setup sounds a unique tone per the user setting. Multiple units can be configured for different lamp colors and different tones, providing operators in hazardous locations with an effective and powerful alert system that can withstand demanding conditions and can be heard over the operation of industrial machinery and equipment.

Wiring is made through a ¾" NPT conduit access hub and can be configured to work on 120V or 240V AC for use with standard line voltages or 24V DC for low voltage operation. A NEMA 4X rated explosion proof junction box protects the internal wiring and can be tapped in order to connect this stack light to power sources. Mounting is provided by a heavy gauge aluminum base with predrilled holes designed to be bolted to walls and flat surfaces for permanent and secure attachment. Power is provided by individual conductors to allow independent operation of each lamp and tone combination. Operators can tap the C1D1 junction box in order to connect to a power source. This unit carries a T3 temperature rating, is weatherproof, dust-proof, NEMA 4X rated and marine rated for wet environments.

For more visit Larsonelectronics.com.