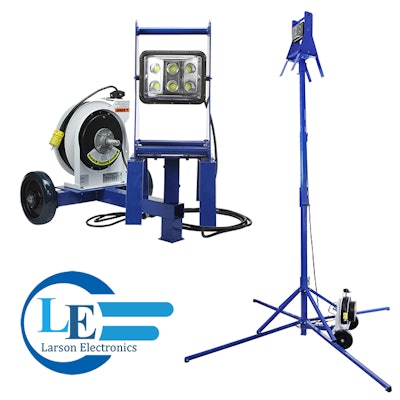 Longtime leading supplier of explosion proof lighting equipment Larson Electronics has announced the release of a 60 watt base stand LED work area light mounted atop an extendable quadpod equipped with a retractable cord reel.

The WAL-QP8-WP60PM-GRC50 from Larson Electronics is an aluminum quadpod mounted work area LED light that provides 3,750 square feet of work area coverage with 5,400 lumens of light output. This adjustable LED light tower is designed for portability and durable operation, comes with a self-ratcheting cord reel equipped with 50' of SOOW cable, and is ideal for use in demanding conditions. The LED light head on this unit produces a wide flood pattern of light that is ideal for illuminating large workspaces and job sites. The light assembly is constructed of three angled boards that help provide a wider spread. The boards and reflectors are protected by a scratch and shatter resistant polycarbonate lens attached to the aluminum housing, allowing this unit to withstand the abuse that traditional halogen work lamps cannot. This light is a direct replacement for 500 watt quartz lights and is designed for heavy duty use in demanding conditions.

This LED light fixture is comprised of an adjustable 60 watt light head mounted within a portable base stand frame fabricated from non-sparking aluminum with a convenient carrying handle built into the top of the stand. The aluminum frame is powder coated with a glossy blue finish for corrosion resistance and aesthetics. This adjustable and collapsible quadpod can be extended to twelve feet and collapsed to four and a half feet and includes solid wheels that allow the operator to tilt the unit back and roll the entire assembly to a new location. This work light is detachable and can be used independently of the quadpod making the unit versatile. Included with this LED quadpod light is fifty feet of 16/3 SOOW cord housed inside a retractable cord reel that is mounted at the base of the quadpod.

For more visit www.Larsonelectronics.com.