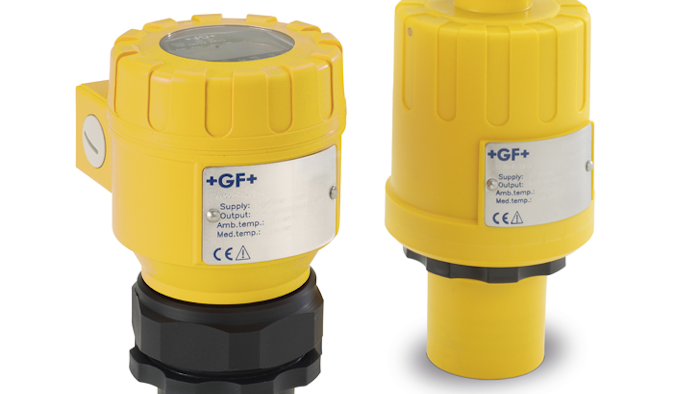 GF Piping Systems has introduced a comprehensive new level sensing instrumentation product line that includes ultrasonic level transmitters, sensors, and a variety of switches. The new product line-up was developed in response to customer demand following the proven performance of the company's existing Submersible Hydrostatic Level Sensors and Transmitters.

Key highlights to the new line are the 2260 Ultrasonic Level Transmitter and the 2270 Ultrasonic Level Sensor. Together, these devices provide reliable and maintenance-free measurement and detection for nearly all liquids and types of vessels - from closed tank systems to open basins - and are suitable for use in variety of water treatment, chemical processing, and ultrapure water applications.

The new Ultrasonic Level Transmitter and Sensor, both display, blind and Atex approved, operate on the measurement principle of ultrasonic time of flight and feature ± 0.05% accuracies of the measurement range. Outstanding design features include use of a narrow beam that allows safe installation in limited space tanks and near static objects. A large display provides for easy level and volume readings and the Quick-Set menu incorporates pre-programmed tank shapes for setting up volume calculations in minutes to make instrument start-up time fast and easy. The device can recognize foreign matters and disregard them to ensure reliable level measurement, even in tanks where there are heavy vapors, condensation or turbulence. Sensors are available in PP, PVDF, and in 4m and 6m sizes with 1-1/2" and 2" threads.

For more visit www.gfps.com.