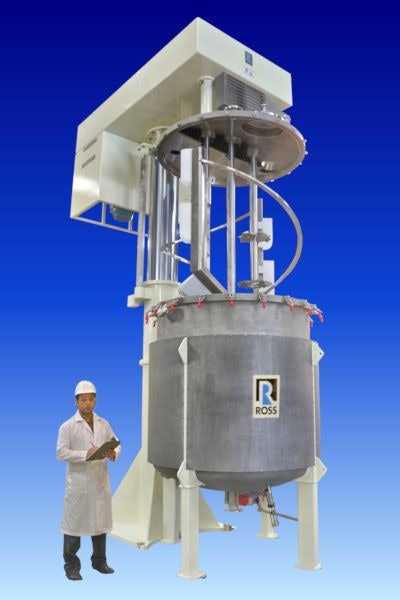 Hauppauge, NY, May 26, 2015 – Ross introduces a new VersaMix multi-agitator system featuring a two-wing anchor, a gate agitator and a high speed disperser. Ideal for processing viscous pastes and slurries, the new VersaMix delivers a unique combination of low, intermediate and high shear rates. Each agitator is independently-driven, imparting a wide range of mixing intensities and flow patterns as the product changes rheologically throughout the batching cycle.

VersaMix Multi-Shaft Mixers are offered from 1-gallon laboratory models to 4,000-gallon production models. Designed for gentle but thorough blending, the low-speed anchor agitator may be supplied with helical flights for improved top-to-bottom mixing. Hinged Teflon scrapers arranged in a staggered pattern on the anchor further optimize material and heat transfer. Like the anchor, the gate agitator also promotes bulk flow through horizontal cross bars designed to move material in the forward direction and vertical bars which induce backward flow. The high-speed shaft can include two or more adjustable disperser blade attachments to ensure rapid powder wet-out and accommodate varying batch sizes.

Pictured is a Model VMC-1000 with a working capacity of 1000 gallons. An air/oil hydraulic lift raises/lowers the entire agitator assembly into the vessel. The mixer also rotates 90 degrees and can be raised/lowered from that position for cleaning and servicing. This customizable product line is built for atmospheric or vacuum/ pressure operation, with options for a jacketed vessel, powder loading chute, sight ports, automated discharge valves, tank lights, thermoprobes, temperature control unit, vacuum pump, discharge system, PLC recipe controls and many other features.

For more visit www.mixers.com.