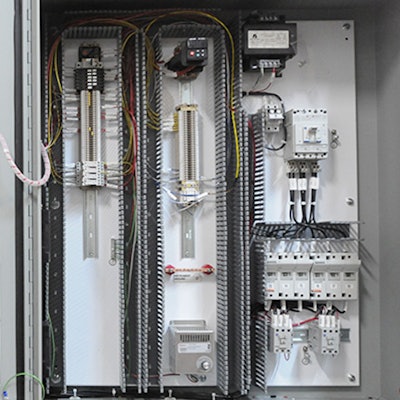 Principal Technology Inc. has created a line of standardized, pre-engineered heater power panels that include the key features industrial customers need. These heater power panels provide safety interlocks and control of electric heaters for process streams including liquid, gas and aqueous electric fluid heating and vaporizer applications.

Principal Technology's pre-engineered products, including our heater power panels, allow for faster design, installation and commissioning. Not to be confused with a One-Size-Fits-All product, these pre-engineered systems can be tailored to meet the needs of the end-user. Using a modular design approach allows Principal Technology to efficiently marry the foundation elements of a pre-engineered solution with the unique requirements of many industrial operators.

Principal Technology's heater power panels have standard heater ranges from 15 to 540 KW at 480V/3 ph/60 Hz and are configured with multiple heater circuits capable of offering redundancy if one or more circuits fails. Modulating control for electric heaters is accomplished using silicon rectified controllers (SCRs) proportional to the customer's demand signal (4-20 mA), and SCR heat sinks are mounted externally on the enclosure for faster SCR heat rejection. Each unit includes a main three-phase disconnect and control power transformer with Nema 4 electrical enclosure. LED pilot indicator lights for 'power on', 'heater on', and 'over-temperature' protection with reset are included.

To provide our customers with the exact equipment needed for their specific operation, Principal Technology offers a choice of several optional features to customize the heater units. The pre-engineered heater power panels come with a number of standard critical safety features and they meet NFPA 70, National Electric Code and are available with approval for hazardous locations.