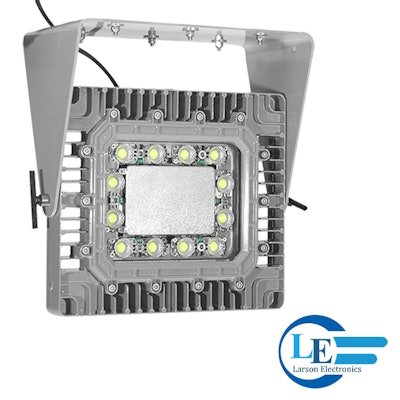 Larson Electronics has announced the release of a 150 watt LED explosion proof light fixture equipped with a flat surface mounting bracket.

The EPL-CM-150LED-RT ceiling mount light fixture form Larson Electronics provides operators with a powerful and energy efficient alternative to traditional hazardous location luminaires. This Class 1 Division 1 & 2, Class 2 Division 1 & 2 flat surface mount explosion proof light fixture provides 13,000 lumens of high quality light while drawing only 150 watt of power. A special heat dissipating design in conjunction with LED technology helps this fixture achieve an excellent 60,000 hour rated lifespan with 80% lumen retention. The copper free aluminum alloy body is powder coated for added durability and an attractive aesthetic appearance. This light features an adjustable swivel bracket constructed of 3/8" aluminum. This aluminum mounting bracket has six predrilled holes, allowing operators to mount the unit to ceilings, walls, and any flat surfaces.

The explosion proof LED light fixture features multiple LED drivers which help increase the operational life of the fixture. This LED lamp contains twelve individual LED boards with an individual driver. In the event of a driver failure, only one bank of LEDs will be affected while the other banks will continue to operate. In the event that an LED failure occurs, the mating LED will continue to operate. By nature, LED light sources run significantly cooler than traditional lamps, reducing the chance of accidental burns and increased temperatures due to heat emissions. This solid state design of light emitting diodes provide a more reliable, stable, durable, and energy efficient light source over traditional lighting. This light is universal voltage capable and can be operated with 100-277 volts AC. Power is provided by 100' of SOOW cable and is terminated in a 15 amp explosion proof plug.

For more visit www.Larsonelectronics.com.