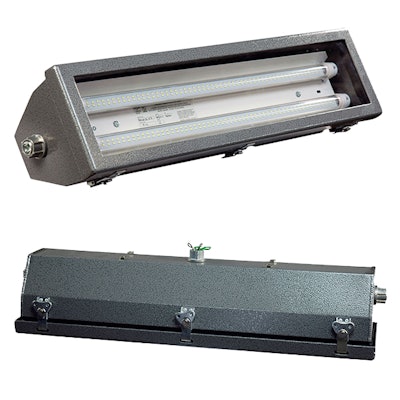 Larson Electronics continues its commitment to providing high grade lighting equipment to specialty markets with the release of a 30 watt explosion proof LED light fixture.

The HAL-24-2L-LED-BMSW-PND fixture from Larson Electronics is a two foot long, two lamp, UL listed Class 1 Division 2 Groups A, B, C, and D hazardous are LED light that takes the reliability and efficiency with high output LEDs. This fixture is constructed of copper free aluminum alloy and powder coated. This fixture is T4A temperature rated and comes standard with our high power 15 watt LED lamps. The lamps are protected by a powder coated aluminum frame and shatter and heat resistant clear acrylic lens secured with six zinc coated steel draw latches. The lamp reflector is corrosion resistant heavy gauge aluminum and coated with a high gloss reflective finish. The solid state design of light emitting diodes provides a more reliable, stable, and energy efficient light source over traditional fluorescent lighting.

This fixture can be configured to run on 120 to 277 volts AC as well as 12-24 volts DC and is U.L. 595 and U.L. 1598A Marine Type approved for use in marine environments. This fixture is equipped with two threaded hubs on the back of the fixture which allows the operator to mount the fixture via rigid pipe for suspended hanging. The HAL-24-2L-LED-BMSW is weatherproof and provides operators in hazardous locations with a highly efficient, reliable and affordable lighting solution for open areas where flammable chemicals and vapors may occasionally be present.

For more visit www.Larsonelectronics.com.