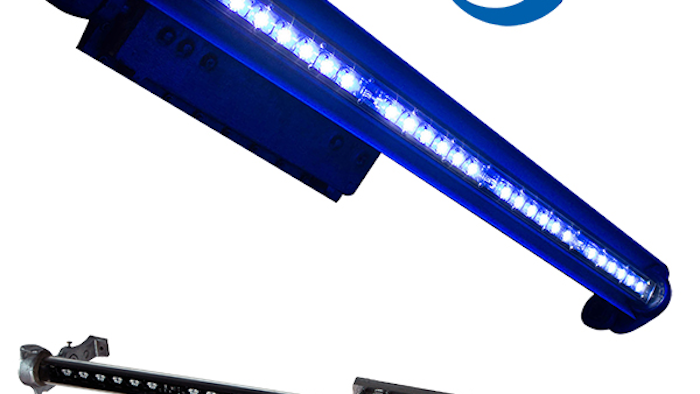 Industrial lighting specialist Larson Electronics has announced the release of a 33.5 watt ultraviolet LED light fixture that is used to cure paint and adhesives, food inspection or for non-destructive testing.
The EPL-48-1L-GSLED-UVA fixture from Larson Electronics is a four foot, one lamp explosion proof LED light fixture that emits light in the ultraviolet spectrum. This lamp is protected by a heat and impact resistant Pyrex tube and the fixture is constructed of copper free aluminum alloy. The lamp reflectors are corrosion resistant heavy gauge aluminum coated with a high gloss reflective finish. This fixture uses LED light technology that is far better in energy savings than traditional fluorescent bulbs used for the same application. Traditional ultraviolet lights require a coating to block out visible light or a special composition of gases and chemicals used to create a higher concentration of ultraviolet light. This process produces many other wavelengths of light which go unused and end up as wasted energy. LED lights are unique in that they have a narrower wavelength band than traditional ultraviolet sources and therefore do not require these special coatings.
The EPL-48-1L-GSLED-UVA provides operators in hazardous locations with a reliable and durable UV lighting solution that combines effective production of UV light with explosion proof protection and is applicable for leak detection, paint spray booths, ink, coatings, and adhesive curing, and germicidal applications, as well as for non-destructive testing for inspection, food manufacturing and sanitation.

For more visit www.larsonelectronics.com.