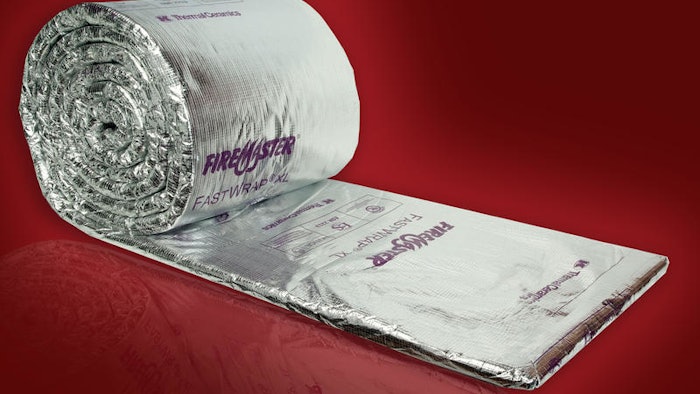 The availability of FireMaster DryerWrap is a viable and cost effective solution for safely routing dryer exhausts from the laundry room to the building exit that results in significant installation cost and space savings. Thinner, lighter, and noticeably more flexible than alternative fire wraps currently in the marketplace, FireMaster DryerWrap is ideal for application on dryer vent ductwork in multi-family residential units to meet fire compartmentalization and life safety requirements.

FireMaster DryerWrap is tested and UL-listed for 1-hour fire resistance on light gage construction up to 7-inch diameter or 10x4 inch rectangular duct-penetrating 1-hour rated wood joist gypsum floor. The material is fully encapsulated in scrim-reinforced foil (FSP). Installation is undertaken using 16-gage galvanized steel tie-wire.

At ½-inch thick and 8-pound per cubic foot density, the approved 1-inch compression or overlap joints allows for installation inside a 6-inch space. Despite its thin and lightweight form, FireMaster DryerWrap high temperature insulation is rated for 2100°F continuous exposure and has been fully tested on specifications typical of dryer and domestic kitchen range vent construction.