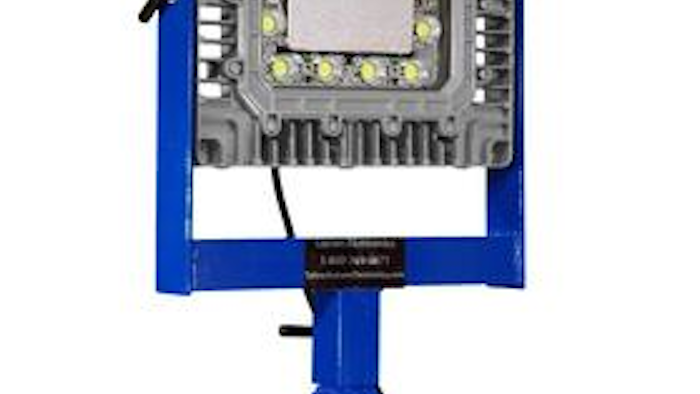 The Class 1 & 2 Division 1 & 2 portable explosion proof LED light mounted on a base stand is fabricated from non-sparking aluminum.
The EPL-16BS-1X150LED-LV-50 portable explosion proof LED light  provides operators an easy to maneuver LED work light for use within
hazardous locations. This portable fixture is comprised of a 150 watt LED light head that is mounted atop a base stand fabricated from non-sparking aluminum and produces 12,500 lumens of light. The LED light head produces a brilliant flood pattern of light that is ideal for illuminating enclosed areas and hazardous locations where flammable vapors, gases and dusts may be present. This LED light head features multiple LED drivers which help increase the operational life of the fixture. With traditional LED lights, in the event an LED array or driver fails, the entire fixture no longer illuminates. This new series of LED lamps contains twelve LED boards configured in a series of banks. Each bank contains two LED boards with an individual driver. In the event of a driver failure, only one bank of LEDs will be affected while the other banks will continue to operate. In the event of an LED failure, the mating LED will continue to operate.
The lamp can be easily adjusted up or down 90° and locked into position by loosening the two hand screws located on the side of the light head. The light frame assembly features a carrying handle on the top for easy transport and a hand screw at the base allowing operators to pivot the top frame assembly on the four leg base stand. Included with this portable LED light is 50' of SOOW cord terminated in a 1523 explosion proof straight blade plug. This unit is multi-voltage capable and can be configured to operate on 11-25 volts AC or DC. For added protection to the lens, it is shipped with 25 peel off mylar over-spray lamp protectors. The protectors provide the lamp protection from dirt or debris and can be removed, cleaned and replaced.
For more visit Larsonelectronics.com.