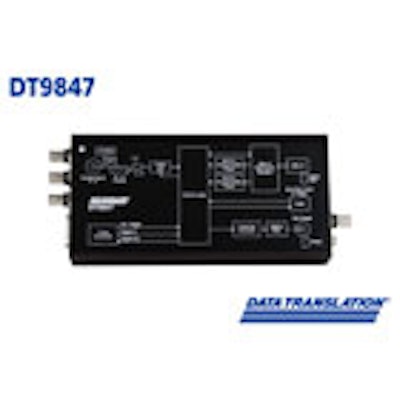 Data Translation has announced the release of the DT9847 Series of dynamic signal acquisition modules for USB. According to the company, these modules are idea for precision measurements with microphones, accelerometers and other transducers that have a large dynamic range. Common applications include audio, acoustic and vibration testing. The modules have a total harmonic distortion (THD) of 102dB, which gives more precise measurement accuracy, while the 123dB dynamic range allows for low-to-high measurement without any gain ranging. Key features include:
Simultaneous analog input and analog output operations.
24-bit A/D converter per channel, and up to 216 kSamples/s/ch.
Support of Integrated Electronic Piezoelectric (IEPE) inputs, including use of a 4 mA current source with 18 V compliance voltage for AC or DC coupling.
Supports a start trigger for acquiring pre-trigger samples and a reference trigger for acquiring post-trigger samples.