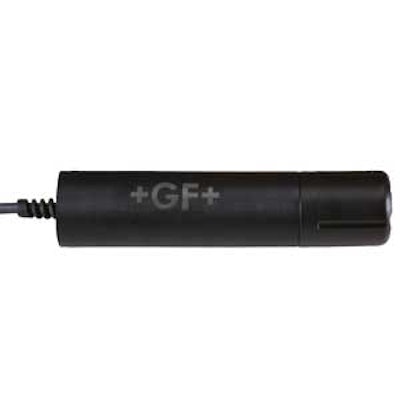 GF Piping Systems unveiled its 2610 optical dissolved oxygen sensor to use optical technology to measure dissolved oxygen with reliability and accuracy, while reducing maintenance and energy costs. The company says that this dissolved oxygen sensor additionally offers:
Measurement of the proportion of oxygen in fluid.
A measurement range of 0 to 20 mg/L, 0 to 200 percent saturation, and accuracies of ± 0.1 mg/L for 0 to 8 mg/L and ±0.2 mg/L for 8 to 20 mg/L.
Elimination of the need for replacement of membrane and reference solutions associated with galvanic or polarimetric measurement technologies, thereby reducing maintenance costs.
Resistance to abrasion and bleaching.
Rugged materials of construction that can withstand the harsh environments of both fresh and saltwater applications.
Built-in Modbus RS485 and 4- to 20-mA current loop outputs to ease interfacing to existing control systems.
An optical sensor cap with a 1-year lifetime (compared to membrane life, which typically has a 3- to 6-month life) that is factory calibrated and requires no field calibration.
CE and FCC approval.
Suitability for many industries, including municipal and industrial wastewater treatment, food and beverage, and more.