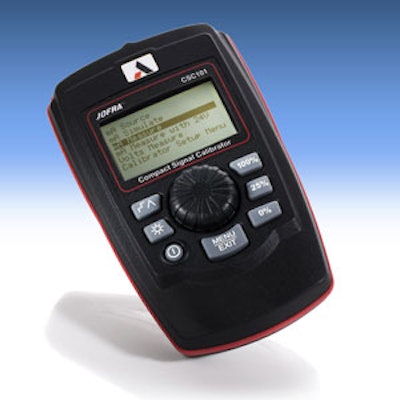 The JOFRA® CSC101 compact signal calibrator from AMETEK Test & Calibration Instruments packs numerous features into a rugged, handheld design that is both easy to use and highly accurate. According to the company:
The handy-sized mA loop calibrator is ideal for both field and workshop use.

The compact device fits easily into a technician's hand and is designed to meet the high-accuracy demands of modern sensors and transmitters, offering 1µA resolution.

It has an intuitive user interface, a bright, high-resolution display and advanced step and ramp functions.

Its unique rotary knob with built-in ENTER push function is both convenient and highly intuitive.

It features fuseless protection that shields the instrument from voltage overloads up to 250 VAC and is powered by six AAA batteries that provide the unit with over 40 hours of battery life.