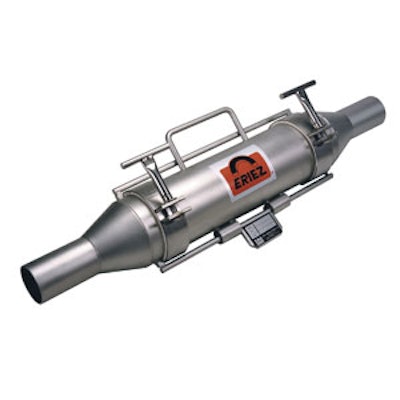 Eriez® RF (Radial Field) Cartridges, available with SuperStrength Erium® 3000 rare earth magnet material, are ideal for removing tramp iron from dry, free-flowing food or chemical products conveyed in pneumatic pipelines. According to the company:
In operation, materials entering the housing are distributed by a solid stainless steel cone and pass in close proximity to the magnetic cartridge.

Ferrous contamination is attracted and held by the magnet while the separated product continues past the magnet and out of the housing.

The ferrous contamination remains on the magnet until the cartridge is removed and cleaned.

The compact overall dimensions of

 

the c

artridges enable installation in tight spaces.

A section of pipe is remove

d

and the magnetic separator is put in its place. 

The company

offers optional end diameters, couplers, adaptors or flanges for customized installations.

Standard units are offered for up to 25 psig (1.7 bar) operation; high-pressure units are also available.